AES/EBU Digital Audio Splitters and Panels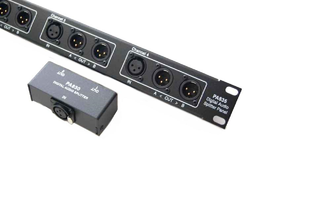 Attention Audio Engineers/Technicians/Installers...try a long-time winner!
The ETS Balanced Line™ AES/EBU Digital Audio Splitters and Panels are passive units, so no external power is AES/EBU Digital Audio Splitters PA830 & PA835 required. These products were specifically designed for the professional audio market.
The AES/EBU Digital Audio Splitters and Splitter Panels are used for balanced 110-ohm signals, and accommodate signal levels to 10 volts. Since proper impedance is maintained, the splitters do not have to be symmetrically applied. Owing to careful specification and minimal signal modification, units may be cascaded, thereby reducing transmitted signal power by 3dB at each stage. In many applications, the need for a distribution amplifier is totally eliminated.
When designing or installing your latest audio system, you now have a choice of single units with male or female XLRs, (only Neutrik™ connectors are used.) or in a 1 RU-high panel with 4 channels. Units are made with rugged metal cases and chassis that can handle those rough and tumble installations. Among the many installations, the ETS AES/EBU Splitters and Panels have been successfully installed in the Olympic stadiums in Vancouver and China along with many national and international radio stations.
About ETS - Woman Owned Small Business
Since 1967, ETS began with custom-made transformers and in 1981 continued as innovators of balun, hub, adapter and splitter technology. ETS has provided media conversion solutions for analog or digital audio, analog or digital video, sending and receiving signals over Cat 5e, 6 or 6a UTP or STP. ETS also provides solutions with "Made in the USA" custom designed products.
ETS
(T) 800-752-8208,
510-656-2012
(F) 510-656-2026
Sales Contact:
Name: Joe Rosenberger,
Sales Email address: jrosenberger@etslan.com
800-752-8208 or 510-656-2012
More from Electrical Equipment & Systems