Aerospace Industry Supplier Benefits from SECO/WARWICK Proprietary Atmosphere Generator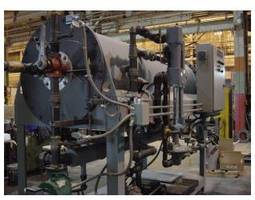 SECO/WARWICK provided an additional atmosphere generator system to a supplier of engineered carbon and graphite solutions for severe service lubrication applications in the aerospace, petrochemical, energy, industrial, and defense sectors. The 6,000 cubic foot per hour rich exothermic generator, a proprietary Exogas® unit, is being used on several of the customer's furnace systems.
The customer decided to purchase this additional unit based on their experience with other SECO/WARWICK atmosphere generator systems. They have found these generators to be easy to use and require very little maintenance. In fact, the Exogas systems they already have in service from SECO/WARWICK are completely worry-free.
An economical and proven alternative to bulk industrial gas purchases
The proprietary Exogas® generator is a proven technology updated continually to ensure simple controls and reliable performance.
Keith Boeckenhauer, Managing Director of SECO/WARWICK, USA, added that "We see many companies enjoying the benefits of our rugged and simply designed generators. In fact, given the cost of bulk natural gases, many companies are showing an interest in producing their own cover or process gas. Our calculation shows that many companies can see a 1-2 year payback with the purchase of a generator. We are pleased to be providing such an economical alternative to bulk industrial gas purchases."
Contact This Company Download Spec Sheet
More from Electronic Components & Devices