AdvantaPure Releases its Schedule of Trade Show Appearances for Summer & Fall 2016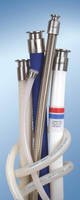 Includes Events in the US Asia



Southampton, Pa. — AdvantaPure plans to exhibit its biopharma and pharmaceutical fluid transfer products at several upcoming industry shows this summer and fall. Each event offers personal contact that allows customers and suppliers to discuss processes, requirements and new developments in fluid flow applications.



AdvantaPure's trade show appearances include:



BioTaiwan Exposition, Taipei, Taiwan, July 21-24, Booth M1231 (together with Cintrade BioProcess, an authorized AdvantaPure distributor)

BioProcess International Conference & Exposition, Boston, Mass., October 4-7, Booth 629

ISPE Boston Area Chapter Product Show, Foxborough, Mass., October 5, Booth E53

China-Pharm, Guangzhou, China, December 5-8, Booth 110C



The company will highlight its Single-Use molded manifold assemblies for filling, sampling and storage applications. The assemblies, which are molded in a Class 7 (Class 10,000) ISO-certified clean room, are made from platinum-cured, Class VI silicone or weldable and sealable AdvantaFlex® biopharmaceutical TPE. They incorporate tubing with leak-proof molded fitting connections such as wyes, tees, crosses and reducers, as well as BioClosure® container closures.



Along with its molded manifold assemblies, AdvantaPure will showcase several of its newest products: sealed tubing ends, sterile bottle assemblies, molded tubing ends, and bioreactor tubing kits. Also presented will be the capabilities of a new model of the company's AdvantaTube® tubing sealer. Called the Aria, the new model is the only unit on the market capable of sealing tubing up to 1" O.D. Other AdvantaPure products on hand will include reinforced process hose, hose identification solutions, and the AdvantaPass® clean room wall and bulkhead pass through system. AdvantaPass incorporates Single-Use tubing and components for suite-to-suite fluid transfer and reduces cross contamination risks and cleaning validation requirements.



The company's recent exhibit participation included events in The Netherlands; New York, N.Y.; Raleigh, N.C.; Oakland, Calif.; San Francisco, Calif.; and Westminster, Colo. AdvantaPure will exhibit at Interphex in New York City again next year and at other industry-related shows in the U.S., Europe and Asia.



For more information on AdvantaPure's trade show appearances, visit http://www.advantapure.com/tradeshows.htm or contact the AdvantaPure team by phone at 888-755-4370 or 215-526-2151; e-mail: info@advantapure.com; fax: 888-258-4293 or 215-526-2167 or at 145 James Way, Southampton, PA 18966.



ISO 9001-2008 RGB 300About AdvantaPure and NewAge® Industries

The AdvantaPure division of NewAge Industries is ISO 9001:2008 certified and specializes in high purity tubing, hose, single use systems, manifolds, and other molded components for the pharmaceutical, biomedical, food, beverage, and cosmetic industries. All products are manufactured, stored, and shipped using the cleanest methods possible to ensure unsurpassed product purity.



In business since 1954, NewAge Industries manufactures plastic and rubber tubing in both reinforced and unreinforced styles. The company offers one of the broadest product lines of tubing and fittings in the U.S., provides extensive custom extrusion and fabrication capabilities, and services customers worldwide. Automated product identification systems, including gamma-stable RFID tags and labels, are offered by NewAge's Verigenics® division. In 2006, NewAge initiated an ESOP (Employee Stock Ownership Plan) for the benefit of both its employees and customers.



AdvantaFlex®, AdvantaPass®, AdvantaTube®, BioClosure®, NewAge Industries AdvantaPure®, Verigenics®, and NewAge® are registered trademarks of NewAge® Industries, Inc.





More from Agricultural & Farming Products