AdvantaPure Highlights Expanded Silicone Molding Capabilities at Interphex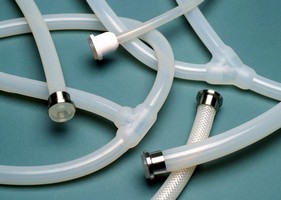 Disposable components for aseptic applications

Southampton, PA - Sanitary tubing and hose manufacturer AdvantaPure exhibited at the recent Interphex trade show in New York City and focused on its silicone molding capabilities, which have been expanded to include disposable filling assemblies, components such as stoppers and sealers, and molded silicone fittings on tubing and hose. All of the company's silicone is platinum-cured and Class VI grade for purity.

AdvantaPure's disposable filling assemblies, designed for sterile batch processing, offer the simplicity of a single, leak-free unit with the option of various Y's, T's, reducers, and other connections styles. They provide a secure, closed system for a pure product.

Stoppers and sealing systems for carboys, bottles, laboratory equipment, and process and storage containers feature smooth, gap-free surfaces for a true seal. Cored holes for transfer or vent tubing are available. AdvantaPure's stoppers and sealing systems work with containers of glass, metal, or plastic, as well as bio-sample bags.

Silicone fittings are molded and attached directly to silicone tubing or reinforced hose for a smooth transition at the fitting juncture. It's another solution for problems involving leaks and entrapment situations that can occur with barb-style connectors, clamps, and ties. Molded silicone fittings are supplied with backing cups of metal or plastic to provide a stable clamping surface and safeguard the fittings during installation and use.

Other products displayed at the show include a wide array of hose and tubing designed for pharmaceutical, biomedical, food and beverage, and chemical applications; a portable tubing heat sealing machine for producing sample specimens; metal storage tanks for product batches; and the Hose Track(TM) Hose Lifecycle Analysis System, which uses RFID tags to identify and track individual hose assemblies, pumps, vessels, diaphragm valves, filters, bio-bags, and UV lamps. Hose Track employs up-to-date computer technology to provide an audit trail that assists with validation processes, and it eliminates hand-written records that are prone to errors and misread data.

For more information on AdvantaPure's products, contact the team at AdvantaPure, 145 James Way, Southampton, PA 18966; phone 888-755-4370 or 215-526-2151; fax 888-258-4293 or 215-526-2167; e-mail: sales@advantapure.com; web site: www.advantapure.com.

About AdvantaPure and NewAge® Industries

AdvantaPure, a division of NewAge Industries, specializes in ultra-clean products for the pharmaceutical, biomedical, food, beverage, and cosmetic industries. All products are manufactured, stored, and shipped using the cleanest methods possible to ensure unsurpassed product purity.

In business since 1954, NewAge Industries is a manufacturer and fabricator of thermoplastic and thermoset tubing and hose, and a private-brand master distributor of fittings and clamps. The company offers one of the broadest product lines of tubing, hose, and fittings in the U.S., and its custom extrusion and fabrication services are unrivaled. NewAge Industries maintains a large inventory and prides itself on same-day shipment of 98% of orders for its core product lines.

More from Mechanical Components and Assemblies