Advanced HMI/Operator Interface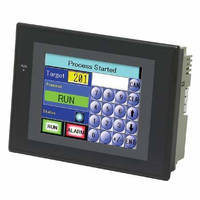 Direct Device Access



The NS Series touch screen HMIs offer built-in Ethernet communications, exceptional alarming/recipe/data logging capabilities and live video input/display capabilities. By allowing direct resetting of faults, these HMIs save time and effort in troubleshooting and quickly return your lines to production. The NS Series achieves flexible data access to a variety of devices. It enables operators to reach the devices on the network including special I/O units, intelligent devices, and PLCs.



Reduced Design Time and Costs

We cut your screen project design time from days to a few hours by preprogramming function blocks that easily drag-and-drop into a program. All you do is specify values for key parameters. The built-in Smart Active Parts library lets you establish communications and parameters for a wide range of products. Just select the product and drag its icon into your project and it automatically sets the correct protocols.



Ladder Programs can be Monitored without Using a Personal Computer

A device monitor function that enables monitoring the PLC I/O data required for device maintenance and debugging is included as a standard feature. Ladder monitor lets you monitor PLC program status, search for addresses or instructions, monitor multiple I/O points, and much more. It only takes about 5 seconds to switch from a user screen to the ladder program monitoring screen.



The ladder monitor function is included as a standard feature of the NS8/10/12 programmable terminals. It cannot be used with the NS5.



The integrated simulation function simulates ladder programs and screen data simultaneously even without the actual hardware. Operation is also simple just click the icons, that's it. No extra software needed.