Adjustable Bowed Roll Smooths Wrinkled Webs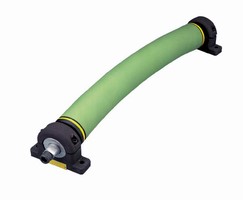 NimCor's Ajusta-Bow roll can be adjusted during operation to produces smooth, wrinkle-free webs

(Nashua, NH) - The apex of an Ajusta-Bow(TM) bowed roll from NimCor can be adjusted while in use to optimize web handling and performance. The Ajusta-Bow improves web control by evenly distributing lateral tension across the web, aiding in the separation of slit webs, or the elimination of slack edges, soft spots and wrinkles. Bow curvature can be manually adjusted while running to meet variations in different web weights, grades, tensions and materials. Ajusta-Bows are available in diameters up to 7-1/2" with a full range of cover compounds, pedestal or flange mounts, as well as an optional drive pulley. Fixed bowed rolls are also available from NimCor.

NimCor:

www.nimcor.com

888-464-6267

Since first manufacturing airshafts in 1961, NimCor, Inc. has emerged as a leader in the production of high-quality airshafts, bowed rolls, air chucks, air mechanical chucks, safety chucks and accessories for the web-process industry throughout North and South America, in parts of Europe and also around the Pacific Rim. With headquarters in Nashua, New Hampshire, just 50 miles north of Boston, the company utilizes the area's abundance of skilled labor and an innovative in-house training program to produce superior web-handling products.


More from Agricultural & Farming Products