Adhesives for Your Specific Needs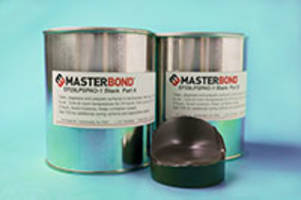 EP29LPSPAO-1 Black: Passes NASA Low Outgassing Tests
EP29LPSPAO-1 Black is a two component, high performance epoxy system with impressive electrical insulation properties and thermal conductivity of 9-10 BTU•in/ft2 •hr•°F. It is serviceable at temperatures as low as 4K. This adhesive, sealant, coating and encapsulant is also able to withstand cryogenic shocks (i.e. room temperature down to liquid helium temperatures in a 5-10 minute time period).
For more information, request a data sheet on EP29LPSPAO-1 Black: http://click.skem1.com/click/iqzlb-bn149r-13mg5461/
MasterSil 705S: One Part, Silver Filled Silicone Adhesive/Sealant
MasterSil 705S is a single component silicone paste that cures at room temperature when exposed atmospheric moisture. This easy to use compound is non-corrosive and has a very low volume resistivity of less than 0.01 ohm-cm. It combines both high flexibility and impressive bond strength with a service temperature range of -60°F to +400°F [-51°C to +200°C]. It also features superior adhesion to other silicones permitting wide applicability for use with most gasketing materials. It has been frequently employed in EMI/RFI shielding applications.
For more information, request a data sheet on MasterSil 705S: http://click.skem1.com/click/iqzlb-bn149t-13mg5463/
EP30Med: Low Viscosity Epoxy Meets USP Class VI Specifications
Ideal for encapsulation, bonding and sealing applications, EP30Med offers excellent electrical insulation properties and exceptionally low shrinkage upon cure. It is a two component, room temperature curing biocompatible epoxy adhesive designed for high performance medical device applications. It features high strength, rigid bonds, superior durability, outstanding resistance to cold sterilants, EtO and gamma radiation. This system withstands 1,000 hours 85°C/85% RH exposure. It also meets FDA requirements for indirect food contact as per FDA CFR 175.105.
For more information, request a data sheet on EP30Med: http://click.skem1.com/click/iqzlb-bn149v-13mg5465/
MB600G: Electrically Conductive, High Temperature Resistant Coating
Ideal for electromagnetic interference (EMI) and radio frequency interference (RFI) shielding applications, MB600G is an aqueous based, sodium silicate system with a graphite filler. Electrically conductive, graphite filled materials are widely used for shielding and static dissipation applications because of their balance of shielding effectiveness and cost effectiveness. MB600G is serviceable over the remarkably wide temperature range of 0°F to +700°F [-18°C to +371°C]. It also is highly effective as a moisture barrier.
For more information, request a data sheet on MB600G: http://click.skem1.com/click/iqzlb-bn149x-13mg5467/
UV15-7NV: Low Viscosity, One Part UV System Has Enhanced Toughness
UV15-7NV is a one component, UV curable polymer system with an impressive strength profile, excellent dimensional stability, outstanding clarity and light transmission characteristics. This system bonds well to a wide variety of similar and dissimilar substrates including glass, metals and plastics, such as polycarbonates, acrylics and a number of polyester films. It is serviceable over the temperature range of -80°F to +300°F [-62°C to +149°C].
For more information, request a data sheet on UV15-7NV: http://click.skem1.com/click/iqzlb-bn149z-13mg5469/
Supreme 12AOHT-LO: NASA Low Outgassing Approved, One Part Adhesive System
Supreme 12AOHT-LO is a toughened system with superior resistance to aggressive thermal cycling and shock. Cryogenically serviceable, it combines superior thermal conductivity with reliable electrical insulation properties. This dimensionally stable epoxy has formidable bond strength, particularly in the shear mode, ranging from 3,400-3,600 psi. Its service temperature range extends from 4K to +500°F [4K to +260°C].
For more information, request a technical data sheet on Supreme 12AOHT-LO: http://click.skem1.com/click/iqzlb-bn14a1-13mg5466/
Master Bond
Email: newsletters@masterbond.com
Phone:+1 201 343 8983
More from Computer Hardware & Peripherals