Acuity Brand's Juno AI™ Smart Home Lighting Wins 2020 IoT Breakthrough Award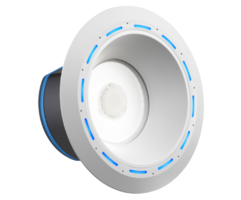 Annual IoT Breakthrough Awards Program Recognizes Standout Internet-of-Things Companies and Products
Los Angeles (PRWeb) January 06, 2020 -- IoT Breakthrough, a leading market intelligence organization that recognizes the top companies, technologies and products in the global Internet-of-Things (IoT) market, today announced that Acuity Brands, the North American market leader and one of the world's leading providers of innovative lighting and building management solutions, has been selected as the winner of the "Connected Home Lighting Product of the Year" award for its Juno AI smart lighting solution in the 4th annual IoT Breakthrough Awards program.
Juno AI™ downlight with Alexa built-in, is the only smart home product to integrate four advanced technologies – the Alexa voice service, high performance JBL® speakers, sophisticated lighting controls and state-of-the-art Juno LED lighting – into a single ceiling light fixture. It can be used to order pizza, play music and playlists, and control other Juno AI downlighting in and around the home – including dimming the lights to set the mood and adjusting color temperature from warm to cool. Juno AI connects to any Alexa-enabled smart home devices – lawn sprinklers, vacuums, security cameras, ambient lighting and much more – through simple voice commands.
"Juno AI offers total control for today's modern smart home, from lighting, sound, voice, privacy and more," said Jeff Spencer, Acuity Brands Lighting Vice President and General Manager of Smart and Connected Devices. "Not only is Juno AI blending seamlessly into the home, it allows consumers to easily program advanced smart home applications all while controlling privacy by muting or turning it off completely with the flick of a switch. We are proud to receive this significant industry recognition and look forward to driving further innovation in the smart lighting and smart home market."
The mission of the IoT Breakthrough Awards program is to recognize the innovators, leaders and visionaries from around the globe in a range of IoT categories, including Industrial and Enterprise IoT, Smart City technology, Connected Home and Home Automation, Connected Car, and many more. This year's program attracted more than 3,700 nominations from companies all over the world.
"Acuity Brands is showcasing a high-level of innovative design and ingenuity with the Juno AI smart lighting solution, incorporating a smart LED, Alexa, and a high-performance JBL speaker into one powerful breakthrough product," said James Johnson, managing director at IoT Breakthrough. "Acuity Brands is delivering a complete smart home ecosystem with Juno AI, taking the lead in smart home lighting design, and we are thrilled to recognize the Company as a 2020 IoT Breakthrough Award winner."
Acuity Brands provides intelligent network systems that can optimize energy efficiency and comfort as well as enhance the occupant experience for various indoor and outdoor applications, all the while reducing operating costs. Additionally, the company continues to expand its solutions portfolio, including software and services, to provide a host of other economic benefits resulting from data analytics that enables the IoT and supports the advancement of smart buildings, smart cities and the smart grid.
About IoT Breakthrough
Part of Tech Breakthrough, a leading market intelligence and recognition platform for global technology innovation and leadership, the IoT Breakthrough Awards program is devoted to honoring excellence in Internet-of-Things technologies, services, companies and products. The IoT Breakthrough Awards program provides a forum for public recognition around the achievements of IoT companies and products in categories including Connected Home and Home Automation, Connected Car, Industrial IoT (IIoT) and Smart City, Consumer IoT and more. For more information visit IoTBreakthrough.com.
About Acuity Brands
Acuity Brands, Inc. (NYSE: AYI) is the North American market leader and one of the world's leading providers of lighting and building management solutions. With fiscal year 2019 net sales of $3.7 billion, Acuity Brands currently employs approximately 12,000 associates and is headquartered in Atlanta, Georgia with operations throughout North America, and in Europe and Asia. The Company's products and solutions are sold under various brands, including Lithonia Lighting®, Holophane®, Aculux®, American Electric Lighting®, A-Light™, Antique Street Lamps™, Atrius®, Cyclone™, DGLogik™, Distech Controls®, DTL®, eldoLED®, Eureka®, Gotham®, Healthcare Lighting®, Hydrel®, Indy™, IOTA®, Juno®, Lucid®, Luminaire LED™, Luminis®, Mark Architectural Lighting™, nLight®, Peerless®, RELOC® Wiring, ROAM®, Sensor Switch®, Sunoptics® and Winona® Lighting. Visit us at acuitybrands.com
Contact Information:
James Johnson
IoT Breakthrough
http://https://iotbreakthrough.com/
2132553658
More from Fluid & Gas Flow Equipment