Achieve FSMA Compliance Using Temperature Dataloggers!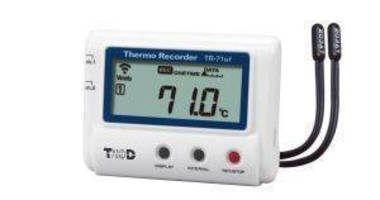 Wireless TD Data Loggers Prove Best Practices



CHESTERLAND, OH —



Is Your Business Ready for FSMA?



Signed into law by President Obama on January 4, 2011, the Food Safety and Modernization Act (FSMA) is being implemented in the Food Beverage industry. Food processors are now required to prove and document the temperature and/or humidity of their food to prove that it's safe from spoiling or microbial contamination. In light of regulatory pressures such as FSMA, HACCP and others, many food processors are using temperature dataloggers to prevent costly food product recalls. CAS DataLoggers is a leading datalogger distributor and offers TD temperature loggers for your business. Give us a call at 800-956-4437!



Documentation Avoids Recalls:



With a strong emphasis on prevention, FSMA requires businesses to show their commitment to food quality. For the first time, FSMA now provides the FDA with authority to issue a mandatory recall of food products to remove contaminated food from the market. All high-risk domestic facilities must be inspected within five years of enactment and no less than every three years afterward.



As a business, you're responsible for documenting your product's temperature and/or humidity data and also for setting an alarm system to notify you of unsafe conditions. Moreover, if you manufacture, process, pack, or store high-risk foods, FSMA calls for you to provide extra documentation of your perishable product.



With all this in mind, T&D WiFi temperature data loggers can help you to prove your best practices in accordance with your written preventive controls plan, and also to avoid recalls or even suspension! These simple compliance solutions are easy to use, log temperature on their own, and are built to last in any industrial environment.



T&D Data Loggers Can:





Continually monitor the temperature of your product 24/7



Create electronic documentation proving your regulatory compliance



Email you alarms the moment your product is at risk—directly to your mobile device!



Auto-upload all data to T&D's FREE Cloud Storage Service (20MB free storage)



Present the temperature data to inspectors in the form of charts and tables.



WiFi Loggers Record Temp & Humidity:



Effective cold chain management requires devices with remote monitoring capability so users can get immediate alarms anytime, anywhere. T&D TR-71wf wireless data loggers are nextgeneration thermo recorders with wireless communication. In access point mode, users can view recorded data directly from smartphones and tablets without a network. These 2-channel temperature recorders have an auto-communication function which automatically uploads all recorded data from the loggers over Wireless LAN to T&D's free Online Cloud Storage service.



T&D is ideal for food temperature management in:





Warehouse storage areas



Restaurants and Delis (walk-in freezers, meat lockers, etc.)



Transport in Trucks (for 'reefer' compartments, etc.)



Users can record temperature in either °C or °F. The logger's external sensors make it easy to accurately measure the inside of a refrigerator/freezer while keeping the logger safe outside the unit. This is ideal for monitoring temperature in a pair of distributed storage units or at two separate points in a room. The temperature logger measures from -40° to 230°F (-40° to 110°)

using the supplied sensor. 



If you need to log relative humidity too, T&D's combination Temperature & Humidity datalogger uses a channel for temperature and a second channel recording the percentage of relative humidity. The combination logger measures from 32° to 131°F (0° to 55°C) and 10 to 95%RH.



Wireless Standalone Operation:



Integrated Wireless LAN communication lets you use your mobile device for logger setup and downloading your data—no cables needed! For users who want to collect their data manually, TR-71wf dataloggers also support USB Communication with a PC. The loggers operate in standalone mode on battery power using a pair of AA Alkaline Batteries.



The unit's LCD display shows the most recent temperature measurements along with a low-battery warning icon. For extended recording, each TR-71wf has a logging capacity of 8,000 Data Sets (one data set consists of readings for all channels in that type of unit).



Store Data on the Cloud at No Cost!



Now you can view data and receive alarms no matter where you are from your mobile device or a PC! T&D's free Online Cloud WebStorage Service is perfect for processing and managing data recorded in remote places and for allowing several people to view the same data whenever they want.



Have Your Compliance Solution Ready!



Get ready for FSMA—make sure your documentation and alarm needs are fully in place so when vendors or inspectors ask for proof, you've got all the data you need. Give CAS DataLoggers a call at 800-956-4437 today!



For more info on the TR-71wf WiFi Temperature Data Logger, or to find the ideal solution for your application-specific needs, contact a CAS Data Logger Applications Specialist at 800-956-4437 or visit our website at www.DataLoggerInc.com.



Contact Information:

CAS DataLoggers, Inc.

8437 Mayfield Rd.

Chesterland, Ohio 44026

440-729-2570

800-956-4437

sales@dataloggerinc.com

www.dataloggerinc.com  

More from Fasteners & Hardware