ACG Brings "Mobile" Voting to Swedish Parliament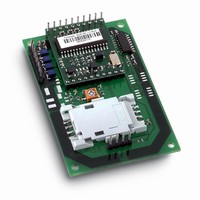 Walluf, 04.09.2006 - ACG Identification Technologies, a leading component and technology supplier in the smart card and RFID markets, announces that its HF Multi ISO reader has been selected for the new voting system in the Swedish parliament (Riksdagsförvaltningen). In addition to enabling faster and more secure voting operations, the state-of-the-art solution will also enable representatives, when parliament approves the measure, to conveniently vote from any seat in the parliamentary chamber. The system is based on the contactless access control cards already issued to all members of parliament and the newly-installed RFID readers from ACG.

Today, the 349 members of the Swedish parliament are required to vote from the seat assigned to them at the beginning of the legislature. In order to expedite voting operations, the Swedish parliament has plans to eliminate this constraint by allowing its members to vote from any seat in the chamber. This objective calls for a secure and efficient identification system for members of parliament.

The new voting system is based on the contactless mifare ID cards already issued to all members of parliament for access to the government building. The ACG readers are being installed in various places inside the voting chamber.

The tender for the implementation of the new voting system was awarded to ACG's partner and leading Swedish system integrator, Syntronic AB. Riksdagsförvaltningen selected the ACG HF Multi ISO reader for its performance and flexibility. The reader's bootloader functionality allows for an easy firmware upgrade if required and therefore protects the investment. The HF Multi ISO reader also provides the highest level of interoperability available on the market, with support for ISO14443A/B, ISO 15693, ISO 18000-3, I-CODE protocols as well as NFC, and has also demonstrated exceptional performance and reliability even when mounted inside the metallic frames found in the chamber - a level of performance that very few competing readers could match.


More from Non-Industrial Products