Accurate Dosing Pumps Enable Welsh Water to Maintain Strict Phosphorus Limits and Reduce Maintenance Costs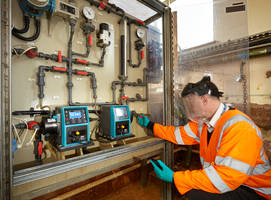 To help overcome the repeated blockage of diaphragm pumps when dosing ferric sulphate at wastewater treatment plants, a number of Welsh Water sites now feature Qdos 30 peristaltic pumps from Watson-Marlow Fluid Technology Group (WMFTG). The investment is expected to achieve a quick return thanks to significant savings in maintenance associated with stripping down and cleaning the diaphragm pumps. Moreover, the Qdos pumps are helping Welsh Water meet increasingly strict phosphorus limits.
With ever-tightening Water Framework Directive (WFD) standards, phosphorus limits are under close scrutiny. WFD Directive 2000/60/EC demands that rivers, lakes, coastal waters and groundwater be in a "good ecological and chemical condition" by 2027. Excessive nutrients such as phosphorus in the watercourse work against this aim as they lead to excessive algal growth and eutrophication (a form of water pollution).
To reduce the ingress of phosphorus through municipal wastewater treatment plants, chemical coagulation is required. The addition of a coagulant such as ferric sulphate converts the phosphate solution into insoluble phosphate compounds which can then be isolated.
The continuous dosing of ferric sulphate at water treatment works requires the application of reliable, high performance pumps. For Welsh Water, the traditional pump type of choice has been based on diaphragm technology. However, this has had its issues.
Blocked diaphragm pumps
"Our diaphragm pumps were blocking on a repetitive basis," explains Ronnie Swain, Process Technician at Welsh Water. "Almost every time I visited one of our sites there would be problems with the diaphragm pumps. We would start off by turning them up to achieve the same flow, but eventually we'd have little option but to get our maintenance team involved to open up the pumps and remove the blockage. However, this obviously involves time and cost, and it was happening year-round. Diaphragm pumps have a lot of components, such as non-return valves and springs, which can clog. We had to carry a whole array of replacement parts in stock. It was clearly time to look for another solution."
Having witnessed the benefits of peristaltic pump technology first hand when a Qdos model was recently installed at Welsh Water's Eign plant in Hereford for the back-end dosing of polyaluminium chloride at 12 l/h, the company thought this might also be a good solution for front-end ferric sulphate dosing.
Initially, Welsh Water opted to install a Qdos 120 pump for dosing ferric sulphate at its Rotherwas wastewater treatment plant in Hereford. Here, the pump has been set to work operating at a flow rate of 50-60 l/h. However, Qdos pumps are reliable at flows as low as 0.1 l/min.
"The difference compared with the diaphragm pump was noticeable from the beginning," says Mr Swain. "Since installing the Qdos pump, we have not had any more problems with blockages."
Success prompts more Qdos orders
Such was the success of the Qdos pump, that two more have since been duly installed at Welsh Water's Ross-on-Wye wastewater treatment plant – one as the duty pump and one on standby. These pumps run at a much lower flow rate of 8 l/h.
Designed as a drop-in replacement to diaphragm pumps, Qdos peristaltic metering pumps offer long maintenance intervals, reducing the impact of process downtime and lowering total cost of ownership. They also cut chemical cost through higher accuracy (±1%) metering. In short, peristaltic pumps enable tighter WFD targets for phosphate levels.
"Phosphorus is already limited to 1 or 1.25 mg/l, but the expectation within industry is that it will soon become even stricter," says Mr Swain. "Obviously we are dosing ferric sulphate, which means we also have to be careful that we don't fail on iron levels. This balance means we need pumps that work reliably and correctly on a continuous 24/7 basis."
Environmental responsibility
The Environment Agency takes samples from Welsh Water plants such as Rotherwas and Ross-on-Wye 12 times a year, checking for phosphorus, iron, ammonia, solids and more.
"We have a responsibility to ensure the delivery to our watercourses is as good as it can possibly be," says Mr Swain. "We've just done our averages for 2016 and I'm pleased to report that both Rotherwas and Ross-on-Wye are comfortably within the required P-limits. Our Qdos pumps have certainly played a significant part and Welsh Water is now considering adopting this technology at further plants."
An added advantage is that Qdos pumps offer reduced maintenance with single, no-tools component replacement. For Welsh Water, maintenance time with the Qdos pumps is now just a few minutes – whereas clearing a blockage from a diaphragm pump would take more than an hour, and would be required far more frequently.
Qdos peristaltic pumps are designed for dosing with all types of coagulant, regardless of their viscosity, basicity, concentration and flow rate. As only the hose comes into contact with the medium, even highly corrosive and abrasive pumped media presents no problems; the pump cannot contaminate the pumped media, or vice versa. Ultimately, with no valves or seals to wear out, clog or corrode, peristaltic pumps reduce the burden of maintenance.
WMFTG can now confirm that Welsh Water has just purchased 15 further Qdos pumps for installation at its Rotherwas, Eign, Ross-on-Wye, Kington and Leominster wastewater treatment plants.
Watson-Marlow Fluid Technology Group (WMFTG) is the world leader in niche peristaltic pumps and associated fluid path technologies. Founded on nearly 60 years of supplying engineering and process expertise and with over one million pumps installed worldwide, our pumps are tried, tested and proven to deliver.
WMFTG is a wholly owned subsidiary of Spirax-Sarco Engineering plc (LSE: SPX), a global organisation employing approximately 4,800 people worldwide. Watson-Marlow Fluid Technology Group comprises ten established brands, each with their own area of expertise, but together offering our customers an unrivalled breadth of solutions for their pumping applications:
Watson-Marlow Pumps: peristaltic tube pumps for biopharm and process industries
Watson-Marlow Tubing: precision tubing for pumping and other purposes, in a range of materials
Bredel: high flow, heavy duty hose pumps
Alitea: unique peristaltic solutions for OEM customers
Flexicon: aseptic filling and capping systems
MasoSine: gentle sinusoidal pumps for food, chemical and cosmetics applications
BioPure: advanced single-use tubing connector systems
ASEPCO: aseptic valves for the biopharmaceutical industry
FlowSmart: high purity sanitary gaskets, silicone transfer tubing and reinforced silicone hoses for the biopharmaceutical industry
Aflex Hose: specialises in the design and manufacture of PTFE-lined flexible hoses
Watson-Marlow Fluid Technology Group is an international operation based in Falmouth, Cornwall, UK. Watson-Marlow Fluid |Technology Group has offices in Argentina, Australia, Austria, Belgium, Brazil, Chile, China, Canada, Denmark, France, Germany, Ireland, India, Indonesia, Italy, Japan, South Korea, Malaysia, Mexico, the Netherlands, New Zealand, Poland, Russia, Sharjah UAE, Singapore, South Africa, Sweden, Switzerland, Taiwan, Thailand, USA and Vietnam.