Access Offers a Flexible Customization Service for the Latest Compact USB Keyboard from Cherry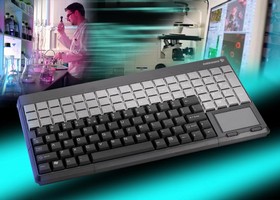 Reading, UK, January 29, 2007 - Access is now offering a flexible customising and configuration service for Cherry's G86-6 family of IP54 rated compact and programmable USB keyboards. Suitable for a industrial, scientific and commercial applications where a customised keyboard can improve speed and accuracy of data entry, the keyboards are available in several versions with either staggered QWERTY or Row/Column XY layout. Cherry's versatile USB Keyman software enables virtually any key code string or macro to be programmed. Customers can choose their own key layout and can specify up to three layers of programming, which means that each key can be used for two additional functions as well as the usual function, shift, ctrl and alt operations. This makes the SPOS very flexible and enables the most efficient and effective layout to be achieved for each application. For retail applications, a Unified Point of Sale (UPOS) driver is included, which provides a ready-made standard application interface.

Access will configure the keyboards and customise keytop legends to suit the intended application. Double and quad keys are available. Although the keyboards can be populated with up to 142 keys they are 30% smaller than a conventional standard keyboard. Variants with integrated magnetic card reader and touchpad are available and the keyboards can be ordered in white or black to match other peripherals.

Access has worked closely with Cherry for more than 16 years and offers extensive in-house hardware and application support for Cherry products. Typical delivery time from agreement of specification is just 4 weeks.

The 3-track magnetic stripe reader reads cards conforming to ISO 7811/-12 standards and has a life expectancy of 1 million card swipes and the touch pad option provides a replacement for a conventional mouse to reduce desk clutter. Touch pads have 1000 dpi resolution and include two switch-activated mouse buttons.

The IP54 rated keyboards come complete with 1.85m cables and consume a maximum of 200mA from a USB 2.0 interface. Other features include 25 million operations key lifetime and a 2-year warranty.

More from Material Handling & Storage