Absolut Manufacturing Thomasnet Showcase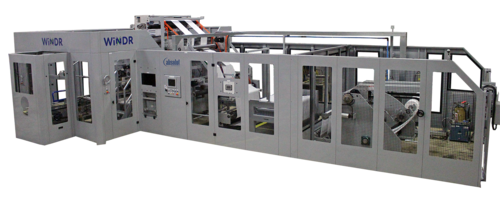 Iron River, Wisconsin -- Absolut Manufacturing, a Bretting Company, is pleased to announce the launch of the WiNDR; a 50" wide coreless rewinding system for the global nonwovens market, providing a reliable and efficient solution for converters worldwide.
Based on our combined experience in the tissue, towel, and nonwoven markets, we have developed breakthrough technology that provides the WiNDR with the ultimate in tension control and equipment performance. The WiNDR is a durable solution that will perform for decades and is the latest development between Absolut and Bretting Manufacturing.
We are excited to provide a world-class offering capable of outperforming all others in this arena. As with all Bretting companies, Absolut is committed to delivering on our promise to provide the gold standard of support and service to the marketplace.
Please contact your Bretting/Absolut Sales Representative to schedule a demonstration or a technical overview to learn why WiNDR is the best choice for you.
C. G. Bretting Manufacturing Co., Inc. ("Bretting") is a 130-year-old, fifth generation family-owned business located in Ashland, Wisconsin with 280,000 square feet of manufacturing and office space. Bretting is a world leader in the design, manufacture, and service of paper converting equipment along with contract machining. Absolut Manufacturing, LLC, located in Iron River, Wisconsin, is where we design, manufacture, and service nonwoven and paper bag converting equipment. We recently added a new 30,000 square foot building which includes office, manufacturing, and assembly space. T&T Manufacturing, LLC in Spooner, Wisconsin, another Bretting Company, provides high-quality machining and fabrication services.
Contact:
Absolut Manufacturing, LLC
68150 Front Street, PO Box 536
Iron River, Wisconsin 54847 USA
Tel: +1-715-372-8988
Fax: +1-866-921-0210
info@absolutmfg.com
www.absolutmfg.com
More from Material Processing