ABB Electrical and Automation Solution to Help Double Capacity for Cement Mills in Egypt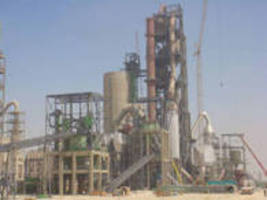 New production line under construction at Misr Beni Suef Cement

Baden, Switzerland, June 2, 2009 - ABB, the leading power and automation technology group, has started delivery of electrification and automation systems ordered in 2008. ABB acts as a sub-supplier of the French company Polysius SAS; the end-user is Misr Beni Suef Cement Company (MBCC) in Giza, Egypt.

The MBCC plant, located in Beni Suef, approximately 150 kilometers south of Cairo, currently produces up to 1.5 million tons of normal portland cement per year. Almost half of its annual production is exported to central European countries. Established in 1997, MBCC holds one of the top ranking positions in cement manufacturing in Egypt; its cement has been granted the certificate of the highest quality according to the European standard mark "CE". By expanding with a second production line, which will generate an additional output of 1.5 million tons of clinker per year, MBCC is able to cover the growing market demands.

For the two new cement mills, each with a capacity of 220 tons per hour, ABB is delivering complete electrification and automation solutions that will increase production and to optimize energy efficiency.

The scope of supply includes System 800xA for process control and integration, all medium and low voltage power distribution systems, transformers, low and medium voltage motors and drives, as well as the electrical infrastructure, erection supervision and commissioning.

By integrating the process and electrical automation system on the common 800xA platform, the customer will see additional benefits in reduced maintenance, engineering and overall lifecycle costs.

ABB's ability to deliver a complete package of electrification and automation solutions, its excellent relationship with Polysius and MBCC, as well as the first-class references in Egypt were key factors to win this important order last year. In 2006, ABB already received the order for electrification and automation solutions for the second clinker production line.

ABB (www.abb.com) is a leader in power and automation technologies that enable utility and industry customers to improve performance while lowering environmental impact. The ABB Group of companies operates in around 100 countries and employs about 120,000 people.

More from Services