Circuit Board Assembly Services
AAEON to Continue Support of AMD Geode Boards Through 2021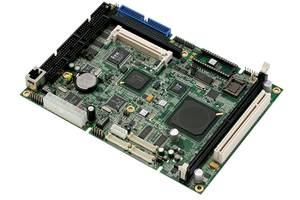 AAEON, a leading developer of embedded computer boards, is working with AMD to ensure that the CPU manufacturer's popular Geode product line remains in service for many years to come.
AAEON produces motherboards in a range of form factors that run on the LX800 processor. These boards take advantage of the processor's design features to deliver high-speed, low-power computing with excellent graphics capabilities, and they're ideal for rugged, thin devices and industrial automation applications. Since the boards are extremely durable and offer outstanding support for legacy devices, they also provide an excellent return on investment for customers.
First introduced in 2005, AMD Geode processors sit at the heart of thousands of AAEON-produced solutions all around the world. "With so many customers using Geode-powered AAEON motherboards, our ability to extend support for these products until at least the end of 2021 is an important development," said Jones Huang, AAEON embedded computer division product manager. "Customer service is an integral part of everything we do at AAEON, so we're happy to make this announcement, as it means our customers will be able to use existing solutions and proven technologies for a lot longer."
Visit the following product pages to learn more about the AAEON boards fitted with AMD Geode processors: PCM-5895 REV. A, PCM-5895 REV. B, EPIC-5536, GENE-5315 REV. A, GENE-5315 REV. B, PFM-541I, PFM-540I REV. A, PFM-540I REV. B, ETX-701, HSB-800I
About AAEON
Established in 1992, AAEON is one of the leading designers and manufacturers of professional intelligent IoT solutions. Committed to innovative engineering, AAEON provides reliable and high quality computing platforms, including industrial motherboards and systems, industrial displays, rugged tablets, embedded controllers, network appliances and related accessories, as well as integrated solutions. AAEON also has the hardware and services for premier OEM/ODMs and system integrators, worldwide. Being an Associate Member of the Intel® Internet of Things Solutions Alliance, AAEON offers customized end-to-end services from the initial product conceptualization and board product development to mass manufacturing and after-sales service programs. See AAEON's expansive line of products and services by visiting www.aaeon.com.