AAEON BOXER-8120AI: AI Monitoring for Fever and PPE Compliance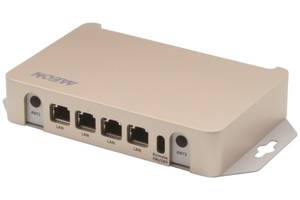 (Taipei, Taiwan – April 28, 2020) – In light of the ongoing pandemic, nations around the world are putting into place various practices to help curtail the spread of COVID-19. One common rule among these is the requirement to wear masks or personal protective equipment (PPE) out in public, as well as barring anyone with a fever. However, observing large numbers of people in such detail can be overwhelming for security teams and staff. AAEON's BOXER-8120AI is being deployed by developers to assist in monitoring for such breaches of newly imposed rules.
On April 3rd, the task force in charge of the Taiwan CDC's efforts, the Central Epidemic Command Center (CECC), imposed new rules requiring the wearing of masks on public transportation, with stiff fines for failing to comply. Also included were rules restricting access to those whose body temperature is above 37.5°C (99.5°F). With an average of over two million passengers each day, monitoring and enforcing these rules on Taipei's Metro system is daunting to say the least.
Utilizing artificial intelligence, authorities can reduce the workload of the task, allowing security and staff to effectively monitor passengers without requiring a ramping up of personnel. Some developers are deploying the BOXER-8120AI embedded edge platform to power this innovative and important role.
Traditional monitoring equipment usually involves only using infrared cameras. However, the surrounding environment can interfere with readings, leading to missed reports and false alarms, with the requirement to adjust data afterwards. Utilizing AI technology with deep learning, the application can combine both facial recognition with thermal detection to accurately detect those who are violating mask requirements, or have fevers.
The BOXER-8120AI is currently deployed in several hospitals, providing monitoring of hospital entrances. In this role, it is crucial to detect potential patients, allowing hospital staff to separate and administer the appropriate treatments. Despite wearing a mask, the facial recognition models can still accurately identify people and features, allowing hospital staff to quickly locate and address anyone with an abnormally high body temperature. Operating at the edge, the system is able to identify and measure the temperature of up to 240 people per minute, and can allow for the monitoring of multiple entrances, greatly reducing the workload of staff.
The BOXER-8120AI is one of AAEON's most popular AI Edge Computing solutions. It's compact size and rugged, fanless design are perfect for use and deployment in just about any role or application. Powered by the NVIDIA Jetson TX2 SOC with 256 CUDA cores, it supports AI frameworks such as TensorFlow, Caffe2, and can support custom AI inference software. With four Ethernet ports, two USB 3.0 and two COM ports, the BOXER-8120AI provides flexible I/O to easily integrate with most projects.
"The BOXER-8120AI provides a flexible platform that can power new projects or easily integrate into existing equipment or infrastructure, whether it's transportation, retail, factories, parking lots, schools, or wherever your project demands," said Alex Hsueh, Senior Director of AAEON's System Platform Division. "One of our customers have refined this application to contact relevant personnel in real-time via mobile phones or text messages; as well as provide quick interpretation after the fact to prevent future incidents. At present, this customer has completed prototyping and is set to order 1,000 units for their application," Alex Hsueh added.
About AAEON
Established in 1992, AAEON is one of the leading designers and manufacturers of professional intelligent IoT solutions. Committed to innovative engineering, AAEON provides reliable and high quality computing platforms, including industrial motherboards and systems, industrial displays, rugged tablets, embedded controllers, network appliances and related accessories, as well as integrated solutions. AAEON also has the hardware and services for premier OEM/ODMs and system integrators worldwide. As an Associate Member of the Intel® Internet of Things Solutions Alliance, AAEON offers customized end-to-end services from initial product conceptualization and board product development to mass manufacturing and after-sales service programs. For an introduction to AAEON's expansive line of products and services, visit www.aaeon.com.