A Taste of Home on Its Way to the International Space Station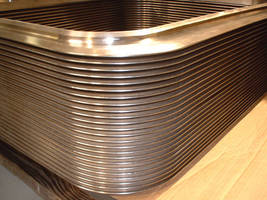 Ormond Beach, FL USA - By helping to maintain cryogenic temperatures as low as -95°C, BellowsTech, LLC edge welded metal bellows have become a trusted, reliable solution for NASA cryogenic temperature chambers.

On October 7, 2012, NASA's Commercial Resupply Services (CRS-1) mission lifted off from Launch Complex 40 at the Cape Canaveral Air Force Station in Florida, carrying a batch of frozen confectionery ice cream as a surprise for the three member crew on board SpaceX's Dragon cargo capsule. The ice cream was stored onboard in a GLACIER freezer, in which a BellowsTech edge welded bellows assembly was designed.

The GLACIER, or General Laboratory Active Cryogenic ISS Experiment Refrigerator, fabricated by the University of Alabama-Birmingham, is used primarily to preserve science samples that require temperatures between -301and 39 degrees Fahrenheit (-160 and +4 degrees Celsius) on the way to and from the International Space Station (ISS). The mini-fridge sized freezer previously flew aboard the space shuttle.

A BellowsTech rectangular bellows assembly provides the mechanical seal between the GLACIER's door and the refrigeration unit; providing a leak-tight seal once the door is closed to prevent temperature changes. At extremely cold temperatures, materials like rubber becomes brittle, however; using a metal bellows assembly as the mechanical seal ensures survival through the cryogenic temperatures of the chamber.

With the ability to customize size, shape, material, weight, length, and mounting connections BellowsTech can provide a solution to industry specific application needs.

About BellowsTech, LLC

BellowsTech, LLC is a premier manufacturer of metal edge welded bellows and assemblies,encompassing a wide array of alloys and dimensional configurations. Our design flexibility to choose from a variety of fourteen materials and over eighty standard configurations of metal welded bellows, combined with our application expertise, has led BellowsTech into industries which include aerospace, medical, test, semiconductor, solar, and oil and gas. In 2007, BellowsTech was acquired by Servometer.

Since 1957, Servometer has pioneered the manufacture of electrodeposited miniature metal bellows, bellows assemblies, contact springs, flexible shaft couplings and structurally rigid electroforms. Servometer miniature bellows are used in a variety of critical applications where high reliability and long-term use are required. Servometer has supported customers with quality products and technical service for over 50 years. Their unique, patented electrodeposition process has led Servometer to become the leading supplier of miniature metal bellows manufactured by this method.

More from Agricultural & Farming Products