A New Record in 3D Printing! The 100 Material Range Barrier Has Been Broken by Objet!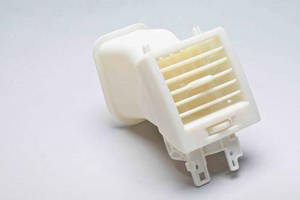 · Objet expands material range to 107 including 39 new 'Digital Material' composites for the Objet Connex Multi-Material 3D Printing Systems

· Objet Connex Multi-material 3D Printers can include up to 14 different material properties in the same model - unique to the industry

· Objet's 107 materials - video clip [http://www.youtube.com/watch?v=LvuXKS6i4iw&feature=youtu.be ]

Objet Ltd [http://www.objet.com ]., the innovation leader in 3D printing for rapid prototyping [http://www.objet.com/RESOURCES/Rapid_Prototyping ] and additive manufacturing has announced 39 new 'Digital Materials' available with its Objet Connex range of multi-material 3D printing systems. This development places Objet customers at the forefront of additive manufacturing in terms of range of possible printing materials to choose from. Customers can now select from 107 materials ranging from rigid to rubber-like substances in terms of texture, standard to ABS-grade engineering plastic in terms of toughness, as well as from transparent to opaque, in terms of clarity and shades.

90 of the 107 materials made available by Objet are 'Digital Materials [http://www.objet.com/3D-Printing-Materials/Overview/Digital_Materials ]', derived by the composite mixing of primary Objet materials. This enables designers, engineers and manufacturers to simulate very precise material properties to closely resemble their intended end-product with the greatest level of realism. The use of the Objet Connex multi-material 3D printer [http://www.objet.com/3D-Printer/Objet_Connex_Family ] allows users to also combine up to 14 of these materials; such as rigid and flexible, or opaque and transparent materials, at the same time in a single consistent model.

According to David Reis, CEO for Objet, "With 39 new Digital Materials, Objet have
become the first 3D printing company to break the 100 materials barrier. Considering that we had half this number just a few short years ago, this growth in material choice
confirms our commitment to consistently deliver new and enhanced material properties to
our customers," explains Reis. These new materials will be used by design and
manufacturing companies in virtually every industry segment and in every stage of their
product prototyping process from form modeling to fit testing and functional verification.

The company has also today launched two new material enhancements. It now offers a new
and improved Objet Rigid Black material (Objet VeroBlackPlus) providing increased
dimensional stability and surface smoothness for all-purpose rapid prototyping
applications.* Objet's 2011-released High Temperature material, offering the high thermal functionality of engineering plastics will be available on all Objet Connex
[http://www.objet.com/3D-Printer/Objet_Connex_Family ] and Objet EdenV 3D Printers
[http://www.objet.com/3D-Printer/Objet_Eden_Family ] and the new Objet30 Pro Desktop 3D
Printer [http://www.objet.com/3D-Printer/Objet_Desktop_Family ].

About Objet Digital Materials

Objet's Digital Materials [http://www.objet.com/3D-PrintingMaterials/Overview/Digital_Materials ](TM) are multi-phase composite materials fabricated by the Objet Connex 3D printing system. The main purpose of Digital Materials is to combine different materials to produce a new material with new attributes that are not available in the separate individual constituents.

Objet's Digital Materials are generated on-the-fly based on the two distinct
cartridge-based materials that are installed in the system.

The Objet Connex family of 3D printers is able to simultaneously print two resin
materials to create nearly 90 different types of Digital Materials. Together with an
initial choice of 17 cartridge-ready materials, this gives users an overall choice of 107 different materials and composite material combinations.

About Objet

Objet Ltd. [http://www.objet.com ], is a leading provider of high quality, cost effective inkjet-based 3D printing systems and materials. A global company, Objet has
offices in North America, Europe, Japan, China, Hong Kong, and India.

Objet's 3D printing systems and 3D printing materials are ideal for any company involved in the manufacture or design of physical products using 3D software or other 3D
content. Companies using Objet's solutions can be typically found in sectors[http://www.objet.com/INDUSTRIES ] such as consumer goods & electronics, aerospace &
defense, automotive, education, dental, medical and medical devices, architecture,
industrial machinery, footwear, sporting goods, toys and service bureaus.

Founded in 1998, the company has thousands of customers[http://www.objet.com/RESOURCES/Case_Studies ] worldwide including a substantial share of the relevant Fortune 100 and Fortune 500. Its award-winning technology (13 awards in 8 years) is based upon over 110 patents and patent pending inventions.

Objet's advanced 3D printing systems and range of over 100 materials[http://www.objet.com/3D-Printing-Materials ] enable professionals to build prototypes that accurately simulate the true look, feel and function of an end-product, even complex, assembled goods. The Objet Connex[http://www.objet.com/3DPrinter/Objet_Connex_Family](TM) line of multi-material 3D printers features the world's only technology to simultaneously jet 2 materials. With this, users can print many different materials into a single part and print various mixed parts on the same build tray. Users can also create advanced composite materials, or Digital Materials [http://www.objet.com/3D-PrintingMaterials/Overview/Digital_Materials ](TM) featuringunique mechanical and thermal properties. Objet's range of over 100 3D printing materials [http://www.objet.com/3D-Printing-Materials ] simulate properties ranging from rigid
[http://www.objet.com/3D-Printing-Materials/Overview/Rigid_Opaque ] to rubber-like
[http://www.objet.com/3D-Printing-Materials/Overview/Rubber-like ], transparent
[http://www.objet.com/3D-Printing-Materials/Overview/Transparent ] to opaque and standard to ABS-grade engineering plastics[http://www.objet.com/3D-Printing-Materials/Overview/ABS-like ], with a large number of in-between shore grades and shades.

Objet's 3D printers [http://www.objet.com/3D-Printer/Products_Overview ] are available
in a range of form-factors, from cost-effective desktop 3D printers ideal for entry-level professionals all the way to industrial-scale multi-material machines for front-line designers and top manufacturers. Objet's 3D printers feature the industry's
highest-resolution 3D printing quality, based on 16-micron (0.0006 in.) super-thin
layering, wide material versatility, office friendliness and ease of operation.

For more information, visit us at www.objet.com, and for more about 3D
printing industry-related news, business issues and trends, read the Objet blog
[http://blog.objet.com ].

Objet Media Contacts

USA

Todd Graff

Conover Tuttle Pace

Tel. +1-617-412-4000

Email. tgraff@ctpboston.com

Korea

Jihyun Lee

The Hoffman Agency Korea

Tel. +82-10-3408-1609

Email. jhlee@hoffman.com

India

Shivalika Chadha

Avian Media

Tel. +91-9717838601

Email. shivalika@avian-media.com

South Africa

Alison McDonald

PR Connections

Tel. +27(0)11-468-1192

Email. alison@pr.co.za

Europe

Claire Russell-Jones

UK Bespoke

Tel: +44-1737-215200

E-mail. claire@bespoke.co.uk

Japan

Edelman KK Japan

Mr. Kiyomitsu Nakata

Tel. +81-03-6858-7711

Email.objetjp@edelman.com

Mexico

Patricia Tawil

IDESA

Tel. +52-55-5253-9670

Email. ptawil@idesap.com

Objet

Arita Mattsoff

Objet

Tel. +972-8-931-4314

Email. arita@objet.com

AUS

Edelman AUS

Shiva Kumar/Amanda Koh

Tel. +612-2-9291-3387/3318

Email. Shiva.kumar@edelman.com / Amanda.koh@edelman.com

Brazil

Tatiana Fonseca

307 Nova Cidade, Sao Paulo

Tel: +55-11-3846-9981

Email: tatiana@gadcom.com.br

Source: Objet Ltd.

More from Agricultural & Farming Products