5.49" AMOLED Display Module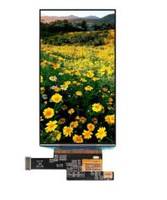 Microtips MTD0550AZOM-T is a 5.49 inch display module with a resolution of 1080(RGB) x 1920. This display is composed of an AMOLED panel, driver ICs, On-cell Touch Panel and FPC.
This display can be used for digital equipments which need display, mobile phone, remote control, electronic product.
Contact us for special pricing with other customizations or quantities to meet all your design needs!
Quick Features:
Size 5.49 inch
Resolution 1080(RGB) x 1920
Display Color 16.7M (RGBx8bits)
Interface MIPI 4 Lanes
Pixel Pitch 0.0632 x 0.0632 mm
Active Area (W x H) 68.299 x 121.421 mm
Hard Coating Polarizer
Operating Temperature -20°C ~ +60°C
Storage Temperature -30°C ~ +70°C
(888) 499-8477
Email: mtusainfo@microtipsusa.com
Link: http://www.microtipsusa.com
Related