Additive Manufacturing Systems
3D Printed Gauges and Fixtures Are Very Effective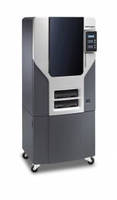 Vulcan GMS has blogged about our 3D printer, the Stratasys Fortus 250mc, in the past. This machine is an FDM (Fused Deposition Modeling) machine and builds up the parts in layers as small as 0.007 inches using an ABS material.



Normally these types of machines are thought of as "prototype part producers," but we have found that there are many additional uses for them beyond prototyping for our customers.



Available 3-D printing procedures



Vulcan frequently produces:



Assembly fixtures that help align parts so that they go together in the correct fashion.

Inspection fixtures so that parts running in a CMM (coordinate measuring machine) can be staged and aligned quickly and consistently.

Inspection aids to help verify that the assembly meets the customer requirements.

Alignment of fixtures to position labels on components.

Verification fixtures to confirm the presences of inserts, holes, proper hardware installations, etc.



3-D printing feedback



The initial reaction we receive when we talk about these uses with our customers is that the printed part cannot be strong enough to handle the loading we will put it under.



However, we have put fixtures in some very stressful situations and they continue to function day after day, which proves that 3D printed tools and fixtures work very well.



Another reaction we receive is the cost seems higher for printed fixtures than other types of fixtures. For simple fixtures (flat plates for example), that would be correct. But the printer allows for complexity at little, if any, additional cost. This makes our 3D printed gauges and fixtures ideal for your gauging needs.



Many of our customers use Vulcan products in higher level assemblies. Let Vulcan help you with your assembly and manufacturing process through the use of 3D gauges & fixtures.



In addition, 3D gauges and fixtures can be produced in a fraction of the time of hard tooling that requires machining.



If you are interested in talking with us about these opportunities further, please contact Vulcan GMS.



More from Packaging Products & Equipment