2.4 GHz-band Wireless Communication Module Certified ISA100 Wireless Compliant Murata's Solution Enables Implementation of High Reliability Industry Automation Designs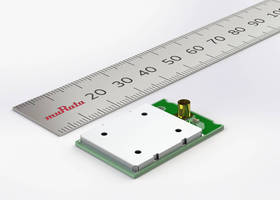 Murata's solution enables implementation of high reliability industry automation designs



Smyrna, GA – Murata Americas today announced that its 2.4 GHz-band wireless communication module, LBBA0ZZ1EU, has been certified as ISA100 Wireless™ compliant.  The International Society of Automation (ISA) Standards Committee developed the ISA100 Wireless™ standard to reflect industrial market needs and ensure wireless component performance standards. Benefits of these certified solutions include high reliability, diversity of applications, and network expandability as well as a high level of compatibility with FOUNDATION™ fieldbus, HART®, PROFIBUS, and other wired communication standards.



Manufacturing plants deploy numerous devices for measuring temperatures, pressures, liquid levels, gas concentrations, and vibrations.  Communication between field devices and monitoring and control systems is critical in collecting data relating to productivity and safety. As such, there is a rising demand for reliable, easy to install wireless field devices.



"Murata has a proven track record in developing leading-edge wireless communication modules.  Our LBBA0ZZ1EU is proof of that and greatly simplifies the process of introducing wireless field devices and systems for design engineers," said Mehul Udani, General Manager of Connectivity Solutions Group, Murata Americas.



More information can be found at www.murata.com.



About Murata

Murata Manufacturing Co., Ltd. is a worldwide leader in the design, manufacture and sale of ceramic-based passive electronic components and solutions, communication modules and power supply modules. Murata is committed to the development of advanced electronic materials and leading edge, multi-functional, high-density modules. The company has employees and manufacturing facilities throughout the world. For more information, visit Murata's website at www.murata.com.