"Made in Germany - Working in Britain" Is the Geo Kingsbury Theme for Mach 2012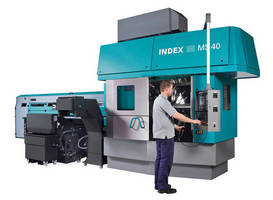 MACH 2012 Preview Information Stand: 5490

"MADE IN GERMANY - WORKING IN BRITAIN"
IS THE GEO KINGSBURY THEME FOR MACH 2012

Seminar theatre for live turn-milling demonstrations

The latest advances in CNC turn-milling, 3- to 5-axis prismatic machining and industrial cleaning will be promoted on the Geo Kingsbury Machine Tools stand at MACH 2012.

The company is sole sales and service agent in Britain and Ireland for Index, Traub, Hermle, Zimmermann, SHW and Dürr, all of whose factories are located in the technological powerhouse of Baden-Württemberg in southwest Germany. It is for this reason that Geo Kingsbury has chosen 'Made in Germany - Working in Britain' as the theme for its presence at this year's show.

A theatre for holding seminars and live demonstrations of two new turn-milling machines, the Traub TNL18-7B sliding/fixed-head lathe and the Index MS40 multi-spindle auto, will form a major part of the stand.

Protruding into the theatre to form the backdrop will be the working areas of both machines, each fitted with on-board video cameras. A central, 60-inch television screen will allow a seated audience to see every aspect of the setups and machining demonstrations in real time to convey the speed and ease with which the lathes can be changed over to a new job. The separate presentations on the Traub TNL 18-7B and Index MS40 will take place before and after lunch respectively, every day of the show.

It is noteworthy that the agencies for Zimmermann and SHW, both of which manufacture large machining centres, were acquired after Geo Kingsbury last exhibited at this biennial show, in 2008, so both ranges of machines are new to MACH. Owing to their large size, they will be represented on the stand graphically and by the presence of their spindle heads.

Index MS40C multi-spindle automatic

Aware that the vast majority of turn-milled components required by industry is under 40 mm diameter, Index offers a six-spindle CNC multi-spindle bar auto, called MultiLine MS40C, which will be on show for the first time at a national exhibition in the UK.

Index is by far the largest manufacturer of CNC multi's in the world and its range of machines is the widest, encompassing a 22, 32, 40 and 52 mm bar models, further enhanced by P and G variants with opposed spindle technology.

The MS40C can be customised with up to 12 CNC cross-slides, optional Y-axes and further equipment to enable high productivity machining of parts in one hit from up to 40 mm bar stock, or chucked parts up to approximately 70 mm in diameter. Simultaneous back-working is achieved using one or two scara robot arms carrying synchronous pick-up spindle(s) that present parted-off components to six separate tools, two of which can be driven.

The machine features V-shaped tool carriers that allow two CNC slides to work simultaneously at one spindle. Each of the 12 slides can perform internal or external turning, boring, or driven tool work in conjunction with the C-axis spindles. Off-centre drilling, thread cutting, inclined drilling, cross drilling, contour milling, gear hobbing, elliptical deburring and multi-edge turning are just a few of the many possibilities.

Speeds and feeds can be programmed independently at each spindle, resulting in optimal cutting parameters in all materials, even high temperature alloys. During machining on an MS40C, it is possible to vary the cutting parameters from the values in the programmed cycle to extract maximum use from tooling.

Index C200 turning centre with kinematically driven turrets

There will be a chance to see the truly novel Index SpeedLine C200 lathe in action once more, with its kinematically driven steel plates replacing compound slides supporting each of the three, 14-station live turrets. The result is a structure with double the stiffness of a conventional lathe, increasing the resonant frequency of the machine and dampening vibrations.

There is consequently more latitude for finding the 'sweet spot' for any combination of toolholder, cutter and workpiece material, allowing depth of cut to be increased for maximum metal removal rate. Accuracy and surface finish are also improved, as is tool life.

Each turret is mounted on a front plate while an interconnected rear retaining plate is driven kinematically by three ballscrew-actuated rods from behind the machine bed. Glass linear scales provide positional feedback.

The critical advantage is that the distance between the turret centreline and the point at which it is driven is much shorter than for a compound slide. The turret and drive plates are fitted with ceramic-coated, hardened tool steel strips at the top and bottom which slide over a third plate of surface-hardened cast iron fitted into the bed, the latter plate effectively being sandwiched between the other two.

Traub's new TNL18-7B lathe sliding/fixed-head, B-axis lathe

MACH 2012 will mark the UK launch of Traub's new, 20 mm capacity, sliding/fixed-headstock TNL18-7B lathe with 100-degree pivoting B-axis on the upper, 8-station turret. The machine is ideal for producing highly complex parts needing angular milling and drilling operations, without the need for expensive and often inaccurate angled driven toolholders.

Introduced at EMO 2011 in Hannover last September, the twin-spindle turn-milling centre also has a 7-station, 3-axis turret below the spindle centreline. Both turrets are rotated by their own CNC H-axis, without a mechanical lock, allowing them to be positioned steplessly at any angle through 360 degrees. So multiple toolholders can be used, allowing up to 54 cutters in the working area. All stations can carry either a static turning tool or a live cutter.

The lathe can operate with or without a guide bush. Long parts can be machined using true sliding-head operation, with the bar gripped by a collet and fed by up to 205 mm through the guide bush, which supports the bar close to the cutting tools.

Yet in just 15 minutes, the lathe can be changed over to produce short parts in fixed-head mode, with the bar clamped by a collet in the spindle and moved 80 mm into and out of the cutting zone using the Z-axis motion of the headstock. Eliminating the guide bush avoids the need to use expensive ground stock. The process is also ideal for applications where a guide bush is impracticable, such as when producing plastic workpieces and those machined from profiled stock.

The 3-axis counter spindle is mounted on the same compound slide as the lower turret and swivels independently around the same axis as the turret to offer a parted-off component to seven rear endworking tools, three of which are live, for completion of operations on the reverse.

While work is in progress on the back of a component, front-end turning and prismatic machining with one or two tools can be carried out simultaneously in the main spindle, allowing up to three tools to be in cut simultaneously.

New TNL32P extends Traub's sliding/fixed-head lathe range to 32 mm bar capacity

Traub also introduced at EMO 2011 its first ever sliding/fixed headstock lathe of 32 mm bar capacity, the TNL32P. It offers a larger working area, higher feeds and speeds, and a 10-station, dual-drive top turret with Y-axis movement and two integrated drivetrains that considerably reduce machining times.

Turret indexing is performed using an NC rotary axis that controls movement via a planetary gear. This allows the turret to be indexed to any position without the need for a mechanical locking mechanism. The free positioning makes multiple-tool assignment possible on each station, which means that the top tool carrier can be equipped with up to 30 tools. Since mechanical locking is no longer necessary, chip-to-chip time is as short as 0.3 second.

While one tool is in use, the cutter intended for the next process can be accelerated to the desired speed so it is immediately available at full speed after turret index. Apart from minimising idle times, the user also benefits specifically from reduced toolholder wear. Traub's compact shank system is used for high-precision mounting of toolholders. They are seated deep within the turret, resulting in lower moments of force and higher stiffness.

A powerful, swiveling, counter spindle is fitted onto an X/Y/Z cross slide that also carries a lower tool turret. The travel for three-axis reverse end machining, even for geometrically complex workpieces, can be freely configured to work with seven backworking tools, three of which are live and four of which have through-tool coolant.

Hermle C 42 U MT: 5-axis machining centre can turn components as well

New also to MACH will be Hermle's 5-axis / 5-sided prismatic machining technology with turning capability. Three of five vertical-spindle machines in the range have the facility to turn and will be represented at the show by the C 42 U MT with 800 x 800 x 550 mm working envelope.

Using the C-axis table mounted on a ± 130 degree swivelling A-axis trunnion, turning operations at up to 800 rpm are carried out in the same clamping as 5-axis milling and drilling, allowing production of complex parts to very high accuracy.

Construction of the C 42 U lends itself to the addition of high precision turning. Bearings for the A-axis are set directly into the mineral cast bed, promoting stable, vibration-free machining, particularly as the trunnion is driven from both sides by motors positioned on the axis centreline. The table, with integral balancing system, is driven by a high torque motor optimised for comparatively high speeds, making it possible to perform combinations of robust roughing and light finishing.

Technological and safety requirements that apply to lathes were taken into account by Hermle when designing its MT machines and relevant safety standards have been adhered to, notably EN 12417 and EN 12478. Even the upper part of the machine enclosure and roof were considered when designing the guarding.

The SK40 / HSK-A 63 taper provides rigidity for static tooling during turning operations. Unusually, these may be performed not only when the table is horizontal or vertical, but also at any intermediate angle, allowing short toolholders to be used and opening up a wealth of machining options.

The spindle features Hermle's new slimline design to facilitate machining of deep cavities and is available with maximum speeds of 10,000, 18,000 or 25,000 rpm offering up to 29 kW of power and 200 Nm of torque. Contributing further to high productivity is 10 m/s2 acceleration to 60 m/min in all linear axes.

Hermle C 22 U 5-axis machining centre

The manufacturer's smallest machine in the range will also be on show in 5-axis arrangement, but without turning capability. It also has never made an appearance at a MACH show.

As with the other machines in the range, the layout is based on the manufacturer's proven gantry design with staggered Y-axis slideways, mineral cast bed for good vibration damping and a trunnion-mounted rotary table. Working envelope is 450 x 600 x 330 mm in X, Y and Z, all linear axis motions being above the table.

High accuracy and top quality surface finish on machined components are claimed for the machine, which is particularly applicable to the tool- and mould-making sector, the medical and aerospace industries, and precision job shops.

Acceleration of 15 m/s2 (1.5 g) to rapid traverse speeds of 50 m/min are achieved in X, Y and Z. In combination with torque motors in the rotary C- and A-axes, the quick linear travels promote short machining cycles by maximising in-cut feed rates and minimising idle times.

The space-saving, circular tool magazine integrated into the machine body exchanges tools quickly; 4.5 seconds chip-to-chip is quoted, in accordance with VDI 2852. There is space for 55 tools in SK40/HSK A 63 holders or 65 toolholders with HSK A 50 or HSK E 40 tapers. The generous capacity allows complete machining of complex workpieces or entire product families, or else a wide variety of individual parts, without the need to exchange cutters.

There is a choice of five spindle drives rated up to 37 kW / 80 Nm, with maximum speeds from 15,000 to 42,000 rpm. For 15,000 rpm and 18,000 rpm versions, an ingeniously simple collision protection system based on a crush sleeve ensures that in the case of a spindle crash, only the sleeve needs to be replaced, minimising repair costs.

A wealth of partial or full automation options is available including pallet change and storage systems, flexible manufacturing cells including workpiece storage and material flow, and handling systems including robotic configurations. Control is by either Heidenhain iTNC 530 or Siemens 840 D SL.

On behalf of: Geo Kingsbury Machine Tools Limited

Quay Lane, Hardway, Gosport, Hants, PO12 4LB.

Tel: 023 9258 0371. Fax: 023 9250 1741.

E-mail: mtools@gkholdings.com

Web site: www.gkholdings.com

Contact: Richard Kingsbury, Managing Director.

Issued by: THE RIGHT IMAGE Ltd,

PO Box 42, Twickenham, TW1 1BQ.

Tel: 020 8891 0603.

E-mail: chris@therightimage.net

Contact: Chris Wright.