DriveControl Z-Card Enables Four-Zone Control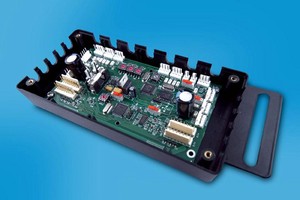 Wilmington, N.C., January 8, 2007 - Interroll's DriveControl Z-card provides multi-zone zero pressure accumulation (ZPA) to conveyor systems handling packages and similar goods. The self-contained intelligent system controls accumulation for up to four conveyor application zones, including any combination of straights, merges or diverts. The Z-card can interface with any Interroll RollerDrive product, including both brushed and brushless solutions, significantly enhancing the control capabilities of virtually any conveyor system.

"The DriveControl Z-Card modules manage conveyor systems efficiently and safely while offering almost unlimited network control options in zero pressure accumulation conveyor applications," said Ken Bobick, Global Product Manager for Interroll RollerDrives. "Because of its efficiency, the Z-card modules are a cost-effective solution for large material handling accumulation applications."

The Z-card offers optional control functionality via a CANBUS network interface for high-end integration. It is also available in an IP54 enclosure for relevant industrial applications. A standard package includes a cable assembly kit to support the interconnect between the RollerDrive, photo eyes and the Z-card for ease of installation.

The Z-card provides local speed control for all four zones and supports either NPN or PNP style photo eyes. It also interfaces to Interroll's RollerDrive EC100 ZPA (Zero Pressure Accumulation) system via a proprietary peer-to-peer network for ease in integrating multiple zone accumulation applications.

For more information about Interroll's innovative RollerDrives and other conveyor components, call 1-800-830-9680, fax 800-830-9679 or visit www.interroll.us.

About Interroll
Products developed by Interroll are deployed on a global scale - wherever goods have to be conveyed, stored or distributed. Committed to excellence, Interroll offers cutting-edge solutions spanning the entire value chain, for a diverse range of industries.

Interroll endeavors to establish a leading position in selected product segments for internal unit load handling - worldwide. Established in 1959 and listed on the Swiss Stock Exchange SWX, the Interroll Group currently employs 1100 people at around 25 enterprises worldwide. Directed by a strategic holding company located in Sant'Antonino, Switzerland, the Group operates with three global business units. Within the components segment, "Interroll Drives & Rollers" focuses on supplying regional engineering companies and original equipment manufacturers. Within the area of modules and subsystems, "Interroll Dynamic Storage" and "Interroll Automation" have tailored their product portfolios to meet the requirements of global systems integrators, multinational corporations and end-users. Interroll develops all-embracing solutions in the field of food processing and distribution, airport technology, mail and parcel distribution, third-party logistics, automotive suppliers and pharmaceuticals.

More from Test & Measurement