CODESYS Support for Ixxat PC/CAN Interfaces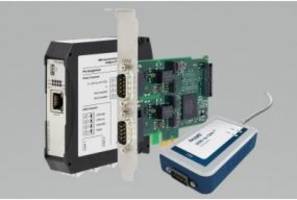 HMS Networks today announces that CODESYS Control Win SL from 3S-Smart Software Solutions GmbH now supports the Ixxat® PC/CAN interfaces from HMS.
The Ixxat PC/CAN interface portfolio from HMS Networks is available for all common PC interface standards, such as USB, Ethernet, Bluetooth, PCIe, PCIe Mini and PCIe 104. Now, this comprehensive range of interfaces is directly supported by CODESYS.
The library required for operation is included within CODESYS version 3.5.14.0 or newer. In addition to the CODESYS installation, only a VCI-V4 driver installation is required to use all Ixxat PC/CAN interfaces under CODESYS. The VCI-V4 driver can be downloaded for free from the Ixxat website.
Using the integrated library, it becomes very easy to access the CAN bus via CODESYS Control Win SL controller applications. For accessing the CAN network, the user can choose between different Ixxat hardware solutions, e.g. a compact Ixxat PCIe Mini CAN interface, which is integrated directly in the controller application, or an external Ixxat CAN interface, which is accessed via USB or Ethernet.
In addition, the Ixxat PC/CAN interfaces can be used with the CODESYS CANopen Master and CODESYS CANopen Slave application, or with any other CAN RAW application on the CODESYS Control Win SL controller.
Further information about the Ixxat PC/CAN interfaces and the VCI driver can be found on www.ixxat.com.
About HMS Networks
HMS Networks is the leading independent supplier of solutions for industrial communication. HMS develops and manufactures products for connecting automation devices and systems to industrial networks and IIoT under the Anybus®, IXXAT® and eWON® brands. Communication solutions for building automation are offered through the subsidiary Intesis.
Development and manufacturing take place at the headquarters in Halmstad, in Ravensburg, Nivelles and Igualada. Local sales and support are handled by branch offices in Germany, USA, Japan, China, Singapore, Italy, France, Switzerland, Spain, India, UK, Sweden, Finland and Denmark, as well as through a worldwide network of distributors and partners.
HMS employs over 500 people and reported sales of 119 million EUR in 2017. HMS is listed on the NASDAQ OMX in Stockholm.
HMS Industrial Networks Inc.
120 Bedford Center Road, Ste 102
Bedford, NH 03110
USA
Phone: 1-603-471-0800
Fax: +1-603-471-0800 ext. 101
sales@ixxat.com
HMS Industrial Networks
Stationsgatan 37, Box 4126
300 04 Halmstad, Sweden
www.hms-networks.com
Andrea JACOBSEN
Phone: +46 (0) 35 17 29 00
Fax: +46 351729 09
anja@hms.se
More from Health, Medical, & Dental Supplies and Equipment