Silicon Carbide Products, Inc.
361 Daniel Zenker Dr., Horseheads, NY, 14845, USA
Latest New Product News from
Silicon Carbide Products, Inc.
Adhesives & Sealants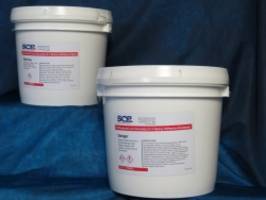 May 19, 2017
Formulated to adhere ceramic components in material handling, power generation, mining and petroleum industries, SCProbond™ Epoxy Adhesives are available in low (LV-1) and high viscosity (HV-1) versions. SCProbond™ LV-1 is used in installing components in horizontal applications whereas SCProbond™ HV-1 is designed for vertical and overhead tilting applications. Product features good... Read More
Adhesives & Sealants, Materials & Material Processing
May 15, 2017
Resisting chemical attack and sliding abrasion, SCProbond™ A/CRC Wear Compound is suitable for mining, construction, petrochemical, power generation and manufacturing operations. Compound can be applied as a protective layer in pump housings, elbows, hoppers, cyclones and dust collectors. Product is designed as an easy to mix and apply wear liner.
Read More