Metcam, Inc.
305 Tidwell Circle, Alpharetta, GA, 30004, USA
Detailed contact information:
Revolutionary Commercial Truck Bed Extension, TramBed 2.0, to Be Demonstrated at the Work Truck Show Return to story
Latest New Product News from
Metcam, Inc.
Transportation Industry Products
Nov 22, 2016
With welded, adjustable, power-coated legs, TramBed 2.0 commercial truck bed extension is optimal to use with forklift. Including powder-painted extension rails and legs, units are completely pre-assembled and ready for rapid installation. When installed in factory truck bed, unit offers quick access with complete stability and support. Providing easy-slide extensions, device reduces potential... Read More
Material Handling & Storage, Transportation Industry Products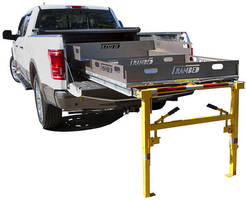 Oct 20, 2016
TramBed 2.0 can be slid out by truck owners and braced via its adjustable legs. Supporting loads up to 2,000 lb (8 ft truck bed) with legs extended, legs keep extension stable and permit product to be used as in-field work surface while adding minimal to no stress on truck suspension. Heavy-duty construction features all-stainless steel deck and factory-welded, powder-painted extension rails... Read More
Other Company News from
Metcam, Inc.