6655 Sugarloaf Pkwy.
Duluth, GA 30097
Rated for 15 hp at 460 V, CWC0 Series provides intermittent starting and full-load reversing in heavy-duty operations. Units are paired with RDW Miniature Overload Relay to prevent electric motors from excessive heat and overload. UL and CE certified, contactors are suitable for AC-4 and limited-space applications.
Read More »
Equipped with WISE insulation system, W Magnet Drive System(TM) incorporates W Magnet Drive inside motor, which is controlled by CFW11 variable frequency drive rated 380-480 V and 20-200 hp. Motor, rated at 460 V and 15-200 hp, is fitted with NdFeB magnets inserted inside rotor, instead of conventional aluminum alloy squirrel cages. CFW11 drive used with W Magnet Drive System uses vector control...
Read More »
ATLANTA, G.A. July 2, 2009 - WEG Electric Corp. (www.weg.net), a leading global supplier of motors, drives, controls, transformers and generators, introduces the expanded line of enclosed full voltage, non-reversing ESW Combination Starters. A compact solution, the new ESW series was developed to start and protect motors, ensuring smooth operation year after year. Added to the ESW line is IEC and...
Read More »
Suited for motor control centers and applications requiring control of multiple motors, SRW01 Motor Control Smart Relay provides solution for control, monitoring, and motor protection from 0.25-840 A. Unit includes USB connection, PLC functions, and WLP software for ladder programming. Operated as overload relay or as direct-on-line, reversing or star-delta starter, system protects against...
Read More »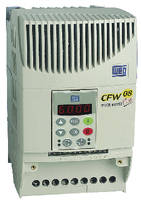 By controlling up to 4 pumps simultaneously, WEG CFW-08 Multipump System keeps constant pressure in pipelines regardless of fluctuations in outflow demand. Unit can be operated with fixed control, where pump with variable speed is always the same, or it can function as floating control, as variable speed pump is changed according to alternating schedule. In addition, system determines...
Read More »
Available as kit for cubicle assembly or as completely housed unit with integrated 6-pulse or multi-pulse front-end rectifiers, Model CFW11-M features U11 modular power unit, which can be configured to motor power by paralleling up to 5 units. Ranging from 400-2,500 hp, control units provide 3-phase 380-690 Vac induction motor control with IPS1 interface card and connecting cables. Monitoring and...
Read More »
October 26, 2008 AC Induction Motors, Paired with New CFW11 VF Inverters with OptimalFlux(TM) Technology, Reduce Heat Build-Up, Double Service Life ATLANTA, GEORGIA - October 26, 2008 - WEG Electric Corp. (www.weg.net), a leading global supplier of motors, drives, controls, transformers, and generators, announces a more efficient motor/drive combination that can significantly increase motor...
Read More »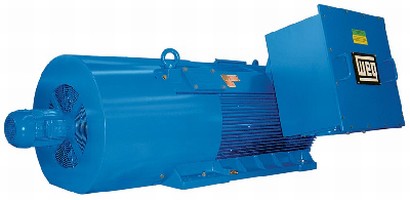 Rated 500 hp and above as set forth by API, PetroDuty-541 features voltage capacity of 2,300-13,200 V and dual voltages of 2,300 and 4,000 V. Unit is available with direct on line or variable frequency starting methods and variety of enclosures. Rated for 250-3,000 hp, PetroDuty-547 also has voltage capacity of 2,300-13,200 V. Unit features die-cast aluminum rotor for 1,000 hp or less and copper...
Read More »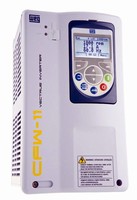 Combining V/F, Sensorless Vector, VVW, and vector (with encoder) control techniques in single unit, WEG CFW11 Vectrue Inverters are suited for 3-phase ac induction motor control. Built-in memory card allows users to create functions without use of any external PLC, while connect and use technology automatically recognizes and configures the accessories and options being used. Inverters come with...
Read More »