Metcal, a Brand of OK International

10800 Valley View St.
Cypress, CA 90630
DX-250 Series Digital Dispenser/Controllers are designed for environments requiring accuracy and repeatability. Controllers operate from 24 Vdc supply and feature digital timers, adjustable vacuums for controlling drips between dispense cycles, an operating pressure of 0-100 psi, and come equipped ready to use. For low viscosity fluid applications, Series DX-255 offers an operating pressure range...
Read More »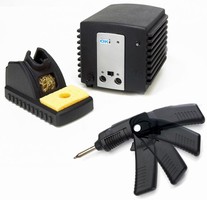 OK International announces four new soldering/desoldering equipment packages as additions to its MFR Series. Setting new standards for flexibility, capability, reliability and value in high-performance rework equipment. Unique design features, state-of-the-art tools and a range of upgrade options. The MFR Soldering/Desoldering Systems are the latest range of soldering/desoldering equipment from...
Read More »