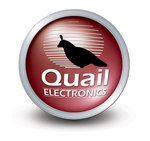 2171 Research Dr.
Livermore, CA 94550-3805
The popular 3500 series is now approved for China with CCC approval. Currently Quail Electronics has the only IEC-60320-C14 to IEC-60320-C13 jumper cable on the market to be internationally and domestically approved. Our 3500 series power cable now carries UL, C-UL, VDE and CCC approval. That means you can take it all over North America, Europe and China without ever having to switch a thing. The...
Read More »
Auto-Lock™ jumper cords come in red, blue, and green to- facilitate organization and are available with IEC 60320 C13 and IEC 60320 C19 connectors to keep cords locked into place. Rated from 10–15 A, IEC 60320 C14 to IEC 60320 C13 Auto-Lock™ Jumper Cords are used for servers, CPUs, and network applications. Heavy-duty IEC 60320 C20 to IEC 60320 C19 Auto-Lock™ Jumper Cords, suited for...
Read More »
For many years, Quail Electronics has had the mission and purpose to provide our customers with the power cord industry's highest quality products. For over 25 years, our quality control has been unmatched across OEM lines, and we place emphasis on staying current with the newest standards. Recently, UL—the approval body for North American Power Cords—has released new requirements for...
Read More »
Intended for sensitive electronics that require uninterruptible electrical continuity, IEC Auto-Lock™ internal retention mechanism hooks to pins of power supply inlets and resists any axial force until released manually. Locking mechanism on connector side facilitates fastening and unlocking of cord. After inserting connector end into device, connection remains secure. Product offers universal...
Read More »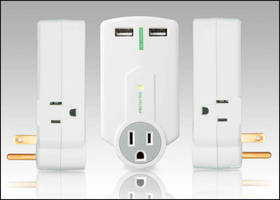 Stop wasting time and space carrying multiple charging adapters and looking for a place to plug them in! Quail Electronics unique USB Travel Power Station and USB Power Plate do the hard work for you, whether on the road or in the convenience of your home. This quality line of smart device chargers features USB 2.0 charging docks that supply 2.1 Amps of electrical current to charge your device....
Read More »
Designed for dimly lit environments, 0310.120LT lets specialists in medical field know if connection is on. It consists of standard NEMA 5-15P Hospital Grade Green Dot Plug configuration with internal LED that will light up when cord is plugged into power source. This 10 ft power cord uses 18/3 AWG cable with Grey SJT jacket, and equipment end is IEC-60320-C13 Clear. Featuring UL and C-UL...
Read More »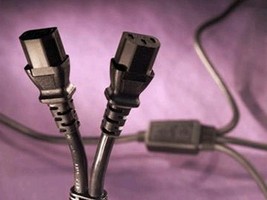 Available in many different configurations and lengths to handle different voltages and amperages, Y and W Cords are designed to power 2 or 3 different units while only drawing power from one outlet. RoHS-compliant cords provide adequate power cabling without creating surplus of cables that require additional AC outlet and can become tangled.
Read More »
Providing outlets on 180° axis, Rotating Power Strip is equipped with 6 rotating outlets and 2 fixed side outlets. It includes power push button, cord management design, EMI/RFI noise filter, surge protection, NEMA 5-15P rotating, NEMA 5-15R rotating, and 2,160 joules. Electrical rating is 15 A circuit breaker, 125 Vac, 60 Hz and 1,875 W.
Read More »
NEMA Locking Configurations plugs and receptacles come in sleek molded configuration. Molded plugs and receptacles can be supplied with several cord types and with many options on other end. Molded items provide correct wiring, water-proof and tamper-proof assembly.
Read More »