935 Stewart Drive
Sunnyvale, CA 94085
Share:
GeoXH(TM) integrated GPS field computer delivers nominal sub-foot (30 cm) postprocessed accuracy for GIS data collection and mapping (20 cm with external Zephyr antenna). Handheld receiver, based on H-Star(TM) technology, provides cable-free solution that incorporates rechargeable battery, 512 MB onboard memory, and 416 MHz processor running Microsoft Windows Mobile v5.0 for Pocket PC. Unit also...
Read More »
AgGPS® EZ-Guide® Plus lightbar guidance system is available with choice of steering systems. AgGPS EZ-Steer(TM) provides assisted steering for vehicles with 6-12 in. pass-to-pass accuracy. It uses GPS and electric motor mounted on steering column to keep vehicle on line without use of hydraulics. AgGPS Autopilot(TM) provides fully automated steering capabilities for operations...
Read More »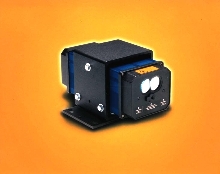 ICS 5000 controls most industrial vehicles, such as overhead and AS/RS cranes, in warehouse, manufacturing, and storage facilities. It uses infrared distance measuring technology and microprocessor-based control system to reduce move times by 30 to 50% compared to other positioning systems. Final positioning is accurate, with system decelerating vehicle to desired destination without hunting or...
Read More »