9925 S. Industrial Drive
Bridgeview, IL 60455
Lifting Gear Hire has made available a piece of rental equipment that provides for the safest and most controlled lifting of large structures. Known as a Sync Lift, the innovative product manufactured by Enerpac uses information to control the lifting, lowering and positioning of any heavy or large structure, including bridges and buildings, regardless of weight distribution. The...
Read More »
Building on its reputation as a pioneer in safety and technological capabilities, Lifting Gear Hire Corporation recently acquired horizontal and vertical proof testing machines that will enable it to test among the heaviest pulling and lifting hardware in the construction industry. The 125,000-pound Dynamic Vertical Proof Testing Machine and 300,000-pound Dynamic Horizontal Proof Testing Machine,...
Read More »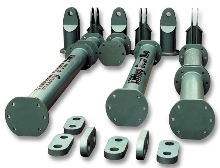 Modular Lifting Beam system, designed for one-man assembly, consists of spreaders ranging in size from 3-80 ft long in increments of 1 to 2 ft. Capacities range from 9-187 tons depending on span and spreaders used. For heavier lifting, MaxiBar system is offered with spreaders from 12-60 ft long and capacities from 12-350 tons. Both systems can both be pieced together in infinite configurations to...
Read More »