OSI Laser Diode, Inc.
4 Olsen Avenue, Edison, NJ, 08820, USA
Latest New Product News from
OSI Laser Diode, Inc.
Electronic Components & Devices, Optics & Photonics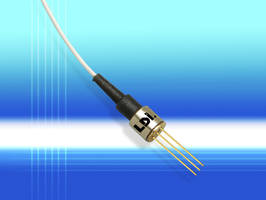 Feb 17, 2017
Suitable for light level detection and signal transmission applications, LAPD 3050 Avalanche Photodiode features low dark current and low back reflection. Having spectral response from 1000nm to 1650nm at 25°C with of 1550nm operational wavelength, unit offers 50V to 70V breakdown voltage. Available in hermetically sealed 3-pin coaxial package coupled to single-mode fiber pigtail, LAPD 3050... Read More
Other Company News from
OSI Laser Diode, Inc.