GPAX, Inc.
561 Lancaster Ave., Reynoldsburg, OH, 43068, USA
Latest New Product News from
GPAX, Inc.
Material Handling & Storage, Packaging Products & Equipment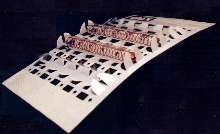 Aug 12, 2003
TekPAX combines mechanically interlocking tape and reel packaging technology with GPAX 2400 Intelligent Tape Feeder. System places each component in custom-designed GPAX tape carrier to prevent scratching, nesting, and damage, while feeder senses presence of each part and does not advance until part is removed. Able to precisely present part for manual or automatic assembly placement, product... Read More
Other Company News from
GPAX, Inc.