7501 Clover Ave.
Mentor, OH 44060-5213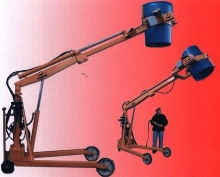 Husky-Master Crane with barrel lifter-dumper lifts and dumps 55-gallon metal drums and plastic tapered drums. Design features gripper with safety hook, telescopic boom, powered lift cylinder, and 12 in. polyurethane wheels. Dumping is activated by 180° rotation of barrel to inverted position. Rotation can be operated five different ways: manual-free 360°, hand-crank controlled,...
Read More »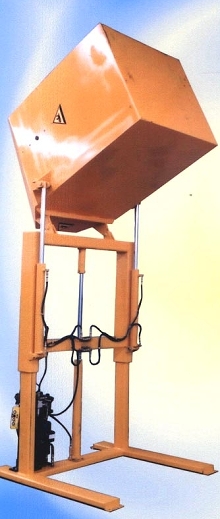 Telescopic container lifter-dumper incorporates tapered chute for dumping powder, liquid, or solid materials. Tilt capability is 135 deg or 45 deg below horizontal. Lift and dump height reaches up to 104 in. Unit is suitable for situations where loads need to be dumped at different heights such as 48, 60, 72, 84, or 96 in. It is available in capacities of 1000, 2000, 4000, and 6000 lb with...
Read More »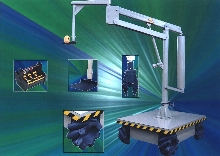 Six-axis Mini-Articularm, mounted on top of omni-directional platform, suits lifting and handling operations. Controlled via corded push button remote controls, joysticks, or wireless radio frequency controllers, system is capable of handling 100 to 250 lbs at 72 in. radius. Parallelogram arm allows load to remain parallel to ground while being raised or lowered. It also rotates 360 deg, and is...
Read More »