Latest New Product News from
Aquatrol, Inc.
Fluid & Gas Flow Equipment, Sensors Monitors & Transducers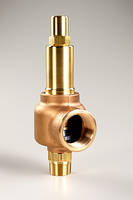 Sep 09, 2017
Aquatrol's Series 560 and 740 Safety Valves provides oxygen cleaning, various connections like tri-clover and polishing to Ra standards. These valves come with dual-lapping process that creates seat tightness for all metal to metal seated valves. Units can be packaged for cryogenic service.
Read More
Fluid & Gas Flow Equipment, Material Handling & Storage, Sensors Monitors & Transducers
Jun 12, 2014
Available in sizes from ½ x ¾ in. to 2 x 3 in. with 17 choices of inlet/outlet combinations, Series 740 offers soft or metal-to-metal seating choices, with closed cap, open, or packed lift levers. Full nozzle valves couple pivoted and bearing based post design with swivel styled seating. Constructed of stainless steel, bronze, carbon steel, or Monel, valves are designed for all ASME... Read More