555 Oakwood Rd.
Lake Zurich, IL 60047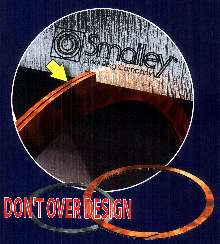 Spiral wound, 2-turn retaining rings are thinner in section and fit into narrow machined groove. They provide 360° retaining surface and are suitable for both internal and external applications.
Read More »
Available in sizes down to Â-¼ in., spiral retaining rings are interchangeable with standard snap ring grooves. Rings have No Ears To Interfere(TM) with mating components, and provide 360° retaining surface. Rings are easy to install and remove-no special tooling is required.
Read More »