3605 Edison Pl.
Rolling Meadows, IL 60008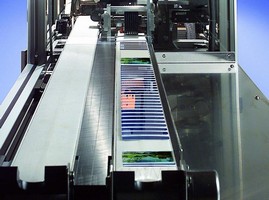 Model 930 Plastic Card Inspection System features batch counting option that automatically batches approved and/or reject cards into groups of selected pre-set size. Self-learning system trains on desired card image in minutes, and inspects both sides of cards at rate of 36,000 cards/hour. Batch counting option, also available as retrofit to existing systems, allows continuous operation of system...
Read More »
(Rolling Meadows, IL) Digitally die cut samples demonstrating the superiority of the Spartanics Klemm Laser Cutting System are now available from Spartanics. Spartanics hopes that the samples packets will help demonstrate the unparalleled software of the Spartanics Klemm system that synchronizes laser powering with the details of part geometry such that the burn-throughs and other defects in...
Read More »