MSC Industrial Supply Co.
75 Maxess Rd., Melville, NY, 11747, USA
Latest New Product News from
MSC Industrial Supply Co.
Safety & Security Equipment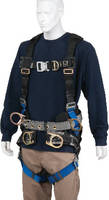 Jun 23, 2014
Comprising full body harnesses, connecting devices, and anchorage connectors, PRO-SAFE® Personal Fall Protection Equipment helps industrial-based companies protect workers and prevent fall-related accidents. Lightweight and unrestrictive, products are made and tested at ISO 9001 certified facility and each one meets or exceeds ANSI and other industry standards. Applications are found in... Read More
Portable Tools
Dec 18, 2013
Accupro metalworking products include 650+ milling items, including variable index tools with offset flute technology that eliminates chatter; Nacro-coated progressive helix tools for high-speed machining in high-tech materials; blue coated tools for materials from 55–65 Rockwell; and uncoated aluminum tools. Threading solutions include tapping products, and general-purpose multi-tap... Read More
Other Company News from
MSC Industrial Supply Co.