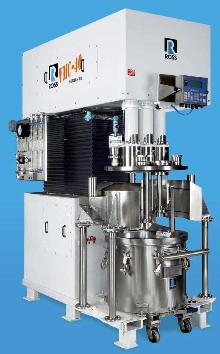 Sanitary VersaMix Model VMC-40 utilizes dual agitation systems to provide process flexibility. Unit is constructed with 316 stainless steel wetted parts and includes disperser, 3-wing anchor with TFE scrapers, gas purged shaft seals, and jacketed vessel. Built with vacuum construction for operation to 29Â-½ hg, unit also includes portable mixing vessel and independently variable speed...
Read More »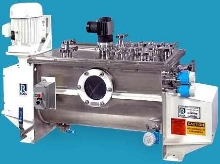 Sanitary Blenders are manufactured in 316 stainless steel and polished to facilitate cleaning between batches. Agitators and shaft assemblies are designed and constructed with smooth weld finishes, while shaft seal rings are readily accessible and removable to permit cleaning of all product zone surfaces. Offered in sizes from 1-515 ftÂ-³, blenders can include side sight ports, control...
Read More »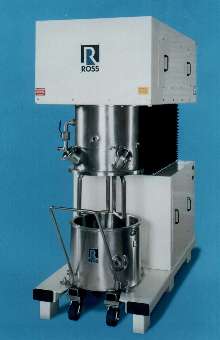 Model DPM is offered in sizes from Â-½ pint to 750 gal working capacity. Liquid seal arrangement completely isolates planetary gearbox from mixing zone. It is used where complete cleaning is required between batches, and is also useful for isolation and containment of aggressive solvents or vapors. Model DPM can mix high viscosity products up to 6 million cps. It is offered with several...
Read More »