Northfield Precision Instrument Corp.

4400 Austin Blvd.
Island Park, NY 11558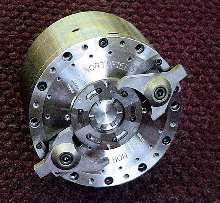 Ten inch face clamping chuck has adjustable orienting pins and center mounted 3 in. diaphragm plate. Plate centers work piece before two contoured fingers swing into position to face clamp aluminum pump housings for distortion free boring at 4000 rpm.
Read More »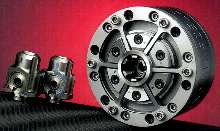 Model DPH-400W, 4 in. diaphragm chuck has special jaws and stop to grip circulator pump bearing housing in-between ears on root diameter. Four of six jaws are used because there are 8 ears. Pins are contoured to compensate for clamping diameter tolerance and diamond coated to provide additional grip. O.D. and bore are machined, and part is ejected with internal air piston.
Read More »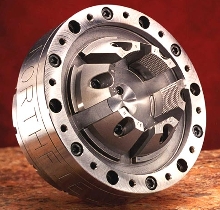 7 in. Diaphragm Chuck is designed to grip cast-iron compressor scrolls on drive shaft hub for finish milling of scroll walls and face. 8 air-open/spring-clamp chucks are mounted on tombstone. Chucks have pulldown action to pull scroll onto fixed stop for zero Z-axis location. Jaws change out for 2 sizes of scrolls and repeat to 1/10,000 TIR. SAE or metric sizes range from 3 in.(76 mm) to 12...
Read More »