Latest New Product News from
Newair, Inc.
HVAC, Thermal & Heating Equipment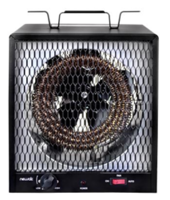 Dec 19, 2017
Mounted Electric Garage Heaters are available in NewAir G56 and the NewAir G73 models. Units are suitable for outdoor workshops, sheds and two-car garage applications. These 240V products feature hanging bracket. NewAir G56 comes with a handle and steel body construction. This version is used to warm up to 800 square feet of space utilizing 5,600 watts of power.
Read More