Latest New Product News from
Chemcoaters, Inc.
Paints & Coatings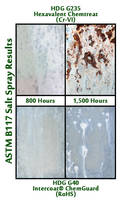 Oct 25, 2017
InterCoat®ChemGuard Coating is suitable for automotive, aerospace, construction, electrical conduit, wall studs, furniture, fixtures, appliances, outdoor and highway railing applications. Unit offers corrosion resistance for galvanized steel and helps to protect the material during stamping, roll forming, shearing. Product provides low coefficient of friction and is eco-friendly.... Read More
Other Company News from
Chemcoaters, Inc.