Expert Equipment Appraisal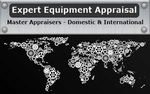 3740 Smith Rd.
Nashville, IN 47448
Summerfield, Florida – Effective Summer 2017 ownership of Certified Consulting Group, LLC has been acquired by Rod Mefford. Rod and his team bring a wealth of experience to Certified Consulting Group, LLC and have relocated the Corporate Headquarters to Summerfield Florida. Rod and Donna Mefford have been with the company for a number of years now and are anticipating the announcement of some...
Read More »
On June 24, 2016 the Small Business Administration will begin taking applications for eligible small business owners to refinance eligible fixed assets through the (SBA) 504 Refinance Program. When Capital Equipment is part of this refinance a Qualified Equipment Appraisal to establish Fair Market Value needs to be performed. Expert Equipment Appraisal has the needed expertise and training to...
Read More »