DeVilbiss Automotive Refinishing
11360 S. Airfield Rd.
Swanton, OH 43558
Share:
Designed to simplify automotive refinishing process by minimizing buffing and rework, DeVilbiss® CLEAN(TM) Anti-Static Wiper and Bumper Prep Pad can be used alone or together. Anti-Static Wiper is OEM-approved dry wiper designed to eliminate paint defects caused by dirt and static imbalance. Lint-free and able to be used between numerous applications, Bumper Prep Pad cleans, abrades, and...
Read More »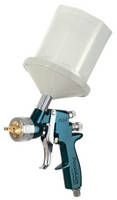 Accommodating needs of automotive aftermarket refinishing industry, FINISHLINE® 4 (FLG-4) spray gun is designed for enhanced atomization and available with multiple fluid tips. Waterborne-compatible product, which features anodized finish and steel components, delivers soft uniform spray patterns. Precision machined air caps and fluid nozzles provide consistent quality finish.
Read More »
Fully coated with QuickClean(TM) Technology on inside and outside, TEKNA Spray Guns are suited for waterborne and solvent-based coatings in military, aerospace, and surgical applications. Protected interior provides corrosion resistance and facilitates cleaning of internal passages to minimize paint defects. EPA approved and suitable for most HVLP areas, guns are equipped with 7E7 air cap,...
Read More »