46 Bridge St.
New Milford, CT 06776
Share: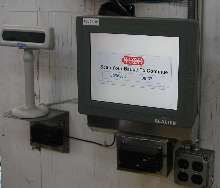 Forklift-mounted M-Station(TM) computer has 12 in., color touch-screen display with optional heater that prevents condensation as users move product between multiple temperature zones in cold storage facilities. Modular, external UPS provides non-stop operation of product while supplying added protection from forklift power spikes. Offered with wireless 802.11b, printer, and barcode scanning...
Read More »
M-Station(TM) features aluminum housing that withstands rigors of harsh environments, including water, humidity, temperature extremes, and airborne contaminants. It offers shock-mounted hard drive and 12 in. SVGA display for viewing in various working conditions. Internal AC/DC converter allows clean wall-mount installations. Computer includes universal mounting brackets, multiple I/O, and...
Read More »