145 W. Commercial Ave.
Moonachie, NJ 07074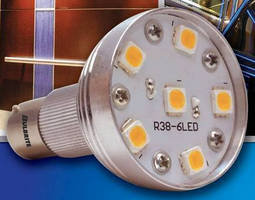 With average life of 30,000 hr, LED 1383 Elevator Lamp minimizes maintenance and relamping in elevators serving multi-level residential, industrial, and commercial applications. Body ensures LED chips are not affected by vibration and can be used with recessed fixtures inside interiors of elevator. Using 2.6 W, LED is R12 bulb type with BA15s base that operates at 13 V. Lamp has CRI of 75, color...
Read More »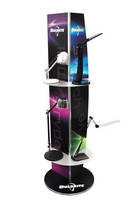 MOONACHIE, NEW JERSEY - To build in-store sales while maximizing visual excitement and consumer appeal, BULBRITE has introduced a bold, retail display to promote its new LED desk lamps. The new series, featuring STRYDE, miniSTRYDE, SKYE, and the award-winning SWYTCH(TM) LED models, offers a stylish statement in any room in residential, office and other commercial environments. BULBRITE is a...
Read More »
MOONACHIE, NEW JERSEY - Offering an upscale, contemporary alternative to the traditional desk lamp, BULBRITE introduces SWYTCH, an LED Desk Lamp that has received the 2010 Home Furnishings News Award of Excellence. SWYTCH offers a stylish statement in any office, game room, living room and many other residential and commercial task lighting applications. BULBRITE is a leading supplier of...
Read More »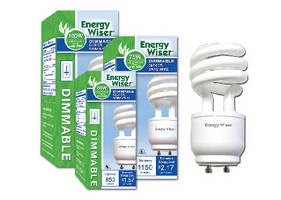 Providing warm incandescent-like white light while delivering continuously smooth dimming down to 10%, Dimmable GU24 CFLs can be used as retrofit bulbs for existing fixtures or can operate with new luminaires. Units come in 13, 18, and 23 W models with 850, 1,150, and 1,600 lumen output, respectively. Suitable for portables, recessed, and track fixtures, bulbs have CRI of 82, color temperature of...
Read More »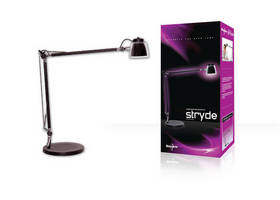 MOONACHIE, NEW JERSEY--- Bulbrite introduces STRYDE and miniSTRYDE, the latest additions to the company's new series of portable LED Desk Lamps. An upgrade from the traditional desk lamp, these contemporary LED Desk Lamps take illumination to a whole new level of sophistication. BULBRITE is a leading supplier of innovative, energy-efficient light source solutions and the premier educational...
Read More »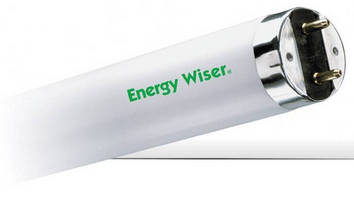 Featuring minimal mercury, 28 and 32 W T8 lamps are tri-phosphor lamps qualified by Consortium for Energy Efficiency and comply with Toxicity Characteristic Leaching Procedure standards. With average rated life of up to 24,000 hr, 28 W T8 fluorescents can be used on 32 W T8 ballast and are available with bulbs in 3500K and 4100K color temperatures. Available in 3500K, 4100K, and 5000K color...
Read More »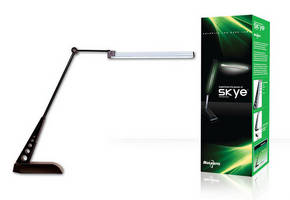 Using 6 W, LED Desk Lamp features 3-step dimming system and delivers soft, bright light without UV rays and color temperature of 5,000°K. Unit stands 18.5 in. tall, extends 17.25 in. outward, and includes 4.5 x 7.5 in. base. Black aluminum clamp, that attaches to any tabletop or desktop, and UL-listed adapter are included. Suitable for any retail setting, black-finished lamp has 22 yr,...
Read More »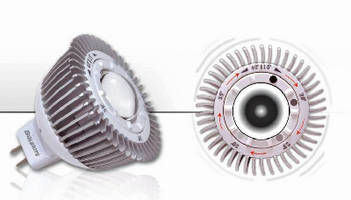 Featuring adjustable dial, LED Multi-Beam MR16 allows user to select any of 6 different beam angles, including 15, 20, 25, 30, 35, and 40°. Each 2 W LED operates on 12 V lighting system, providing CRI of 75, lumen output of 85, and warm incandescent color temperature of 3,000 K. Used with both magnetic and electronic transformers, LED Multi-Beam MR16 is suited for recessed, track, and...
Read More »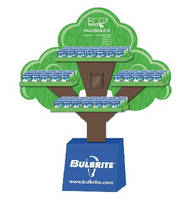 Designed to display Eco-Friendly Halogen A19 bulbs, In-Store Merchandiser replicates shape and look of tree. Shelves, built into tree branches, hold up to 46 boxes with 2 energy efficient lamps in each. Brand is printed on header, with bulb wattage equivalencies listed to right. POP display also includes brochure holder complete with brochures highlighting upcoming law changes.
Read More »