ROHM Semiconductor USA, LLC
6020 Cornerstone Court West
Suite 320
San Diego, CA 92121
Share:
Integrating photodiode for detecting visible light with photodiode for IR light detection, Model BH1771GLC enables proximity sensing from 1-10 cm and brightness from 0-65,000 lux. Monolithic optical sensor includes touchless motion detection function, whereby up to 3 IR LEDs are driven and phase difference of reflected light from each LED is detected to determine direction of movement of...
Read More »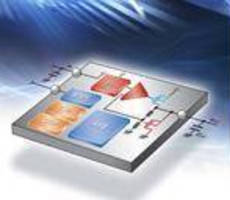 Offered in 9 models with fixed output voltages from 1.2-3.3 V, BHxxPB1 Series CMOS LDO Regulators feature built-in shutdown function, 8 kV ESD protection, and foldback over-current and thermal protection. Low-voltage reference source enables stable operation from 1.7 V inputs. During high-speed operation, with operating current of 20 -µA, output voltage is regulated to -
Read More »
Featuring trimming process and utilizing multiple photodiodes with variable junction depths, ROHM ALS Series of ICs provide accurate output with small variation between various light sources. BH16xx analog series offer linear current output proportional to luminous intensity ranging from 0-100,000 lx, whereas BH17xx series of digital devices have 16-bit analog-to-digital converter to produce 1 lx...
Read More »