485 Brooke Rd.
Winchester, VA 22603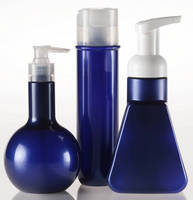 Created in shapes inspired by science, PET (polyethylene terephthalate) bottles are based on flask, bottles, and test tubes used by chemists. Range comprises 300 ml Florentine Flask (Ref 4118), 300 ml Erlenmeyer Conical Flask (Ref 4119), and 250 ml Test Tube Bottle/Tottle (Ref 4128). While suited for personal care products, bottles can also accommodate such market sectors as pet care, automotive,...
Read More »
WorldPressOnline First Call - M&H is delighted to announce the addition of the stunning new range of Celestial bottles to the M&H portfolio of standard products. These bottles are a beautifully curved shape and manufactured in PET offering great product clarity. The collection is available in three sizes offering excellent range potential - 400ml (Ref. 4043) and 200ml (Ref 4041) both with 24/410...
Read More »