Dewetron, Inc.
2850 South County Trail, Unit 1, East Greenwich, RI, 02818, USA
Latest New Product News from
Dewetron, Inc.
Test & Measuring Instruments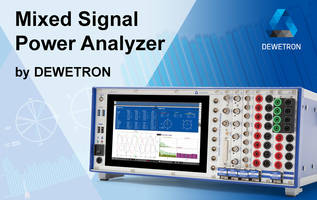 May 15, 2017
Delivering an accuracy of 0.01%, DEWE2-PA7 Mixed Signal Power Analyzer features up to 12 power phases, 1-7 phases per system and mixed signal inputs. Designed with CAN interface with input and output function, isolated voltage and current inputs, unit is synchronized and positioned with GPS. Having measurement range of 1000V/24A (crest factor 2), analyzer comes with 9 in. resolution... Read More
Other Company News from
Dewetron, Inc.