103 Carnegie Center
Suite 300
Princeton, NJ 08540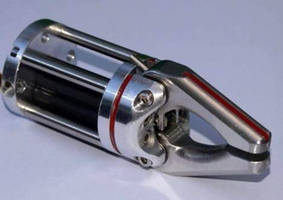 Intended for 5- and 6-axis R12 articulated robot arms, E Series Grippers utilize mini integrated motor/lead screw drives and are available with stand-alone MCUs to accommodate any make of robot. E1 Fulcrum (scissor action) has long fingers and 10 N closing force. When fully open, tips are 30 mm apart. E2 is similar but has short jaws that let user attach fingers. E3 Fulcrum gripper has jaws and...
Read More »
Utilizing digital motors driven by steel-reinforced, polyurethane timing belts, R12-six is suited for testing, sample handling, and machine feeding. Self-contained 6-axis bench-top unit is available with optional incremental optical encoders, plus hand that incorporates mounting plate for grippers and vacuum cups.
Read More »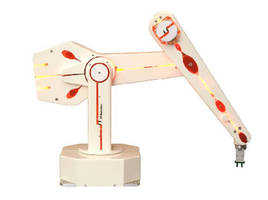 Self-contained Firefly R12-500 features 5-axis, vertically articulated industrial robot arm with 500 mm reach. Unit's intelligence can accomplish complex tasks, while interface allows adaptation to any application, from machine feeding to testing to laboratory sample handling. Options include pneumatic, electric, and vacuum grippers, and expandable I/O.
Read More »